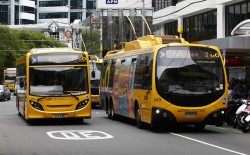 Friday - Wellington will get more electric buses as part of a drive to slash emissions.

Friday - Auckland's public transport system is finally as popular as it was in the 1950s – albeit with five times the population.

Friday - Tesla has announced an increased range as a step toward bringing electric vehicles — and their contribution to combating climate change — into the mainstream.
Wednesday - Money towards another 110 electric-vehicle-charging stations has been announced this morning, bringing the number of Government-funded stations to more than 1000.
Wednesday - Buses in downtown Auckland are going electric.

18 Feb 20 - Shifting the heavy transport sector from diesel to electricity will take more than just the availability of trucks, says Swedish auto maker Volvo.

13 Feb 20 - From public transport to cycling, sustainable transport is on course to overtake driving in the world's biggest cities within a decade, according to a new study.
---
7 Feb 20 - Despite flying being the single-fastest way to grow individual carbon footprints, people still want to fly. Passenger numbers even grew by 3.3 per cent globally last year alone.
7 Feb 20 - Electric vehicle sales in Australia more than tripled last year but were still far lower than in a majority of developed countries, industry data shows.
5 Feb 20 - Rome's Fiumicino airport is testing a pioneering tarmac developed by an Italian company, made of a material that has twice the lifespan of traditional asphalt and is better for the environment.
4 Feb 20 - Do the maths, says Massey University applied mathematician Professor Robert McLauchlan, it really does make sense to get rid of your fossil-fueled car.
29 Jan 20 - The price of electric vehicles must be subsidised if New Zealand is to meet its commitment to the Paris Agreement, a new report says.
29 Jan 20 - After several years of all-electric cars dominating the annual list of greenest vehicles, 2020 brings a surprise – a resurgence of the hybrid.
12 Dec 19 - A plane billed as the first commercial aircraft running entirely on electricity has taken to the skies in Canada.
5 Dec 19 - New Zealand will sign up to new international maritime regulations to reduce ship emissions and lift air quality around ports and harbours.
5 Dec 19 - Air New Zealand has begun trialling edible coffee cups with customers in the air and on the ground.
27 Nov 19 - Toyota New Zealand says it is testing the New Zealand market for hydrogen vehicles as part of a drive to cut greenhouse gas emissions.
26 Nov 19 - According to a recent report, SUVs are the second-biggest cause of the rise in global carbon dioxide emissions during the past decade.
21 Nov 19 - Not everyone is convinced that climate sins can be absolved through projects based on simple carbon accounting.
---