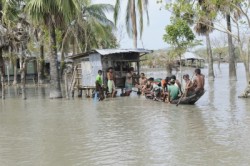 Friday - More than 170 religious leaders from all over the world have urged governments from the Commonwealth to "turn words into action" and stop dangerous climate change.
Friday - Shell CEO Ben van Beurden has the same message for activists and investors: Trust me.
Friday - Australia's Labor states will seek a watertight undertaking that their renewable energy schemes and targets will remain undisturbed by the Turnbull government's proposed national energy guarantee at a critical meeting today.

Friday - Real hard work is about to begin after last week's deal at the IMO, writes BILL HEMMINGS, shipping director at Transport & Environment, a sustainability NGO.

Friday - Indian ride-hailing firm Ola will add 10,000 electric three-wheelers to its fleet over the next 12 months.
Friday - As Japan rushes to cut carbon emissions by 26 per cent, campaigners worry that forests and wildlife are being trampled.
Thursday - The Turnbull government is hedging its bets on whether to allow Australian energy companies to buy offsets to comply with their new 26 per cent emissions reduction target.
---
Thursday - The potential for the tides to generate clean, reliable electricity has taken a significant step with the completion of a flagship project in Scottish waters.
Thursday - The UK government has announced that it wants official advice on the "implications" of aligning its climate goals with the Paris Agreement.
Thursday - Justin Trudeau has said Canada's government is prepared to use taxpayer dollars to push forward plans for a controversial pipeline expansion, despite protests and efforts by a provincial government...
Thursday - Daniel Webb accrued a mountain of plastic – all 4490 items of it – and made it into a mural, now on display in the UK.
Wednesday - Scientists have created - by accident - a mutant enzyme that breaks down plastic drinks bottles.
Wednesday - The massive growth of Australia's natural gas industry is inconsistent with the country's Paris commitments.
Wednesday - Commonwealth heads of state will begin meeting in London, amid concerns over the unequal effects of climate change and efforts to fight it.
Wednesday - Nine years after its launch, the US's first mandatory carbon-trading programme is still boosting the economy and creating jobs in its nine-state region.
Wednesday - Scientists have found nature is the most cost-effective way of reducing the impacts of extreme weather events.
Wednesday - More than 95 per cent of the world's population breathe unsafe air and the burden is falling hardest on the poorest communities,
Tuesday - Declining numbers of bees, butterflies and midges could leave companies facing the prospect of reduced crop quality and a shortage of raw materials.
Tuesday - Low-carbon technologies currently rely on a handful of key metals, some of which have been little-used to date.
---