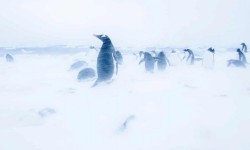 Thursday - Spraying trillions of tons of snow over west Antarctica could halt the ice sheet's collapse and save coastal cities across the world from sea level rise, according to a new study.

Thursday - A freedom of information request has revealed Adani sought the names of Australian scientists involved in reviewing groundwater management plans related to its proposed Carmichael mine.
Thursday - Cement is the key ingredient in concrete, which has been called the most destructive material on Earth.

Thursday - Feeding elephants increase in the amount of carbon that forests are able to store, says a new study.

Wednesday - Record temperatures across much of the world over the past two weeks could make July the hottest month ever measured on Earth, according to climate scientists.

Wednesday - Ursula von der Leyen has been confirmed as the first women president of the European Commission in a nail-biting vote that put climate change centre stage.

Wednesday - Almost three out of four companies with a significant footprint on the world's forests have failed to provide data on their impact on global deforestation in 2018, according to a new study.
---
Wednesday - THE UK Government has handed Jaguar Land Rover a loan guarantee of more than $NZ900,000 to help to accelerate its progress in the global electric vehicle race.
Wednesday - More than 300 women will join a round-the-world voyage launching in October to highlight the devastating impact of plastic pollution in the oceans.
Tuesday - Plans to build a wind farm in Tasmania have come up against an unlikely opponent with Australian Greens founder Bob Brown adding his voice to protests that the project will damage views and ecology.
Tuesday - Prosecutors have indicted the head of a Indonesia's national power firm and other officials, raising hopes of a dirty energy clean-up.
Tuesday - A farm in Portugal is showing how the ancient art of silvopasture – combining livestock with productive trees – might offer some real answers to the climate crisis.
Tuesday - Climate change is prompting Australian wine researchers to trial drought-tolerant grape varieties from Cyprus.
Monday - A group of US philanthropists and investors have donated almost half a million pounds to support the grassroots movement Extinction Rebellion and school strike groups – with the promise of tens of...
Monday - The UK government says all new ships ordered from 2025 and aimed for its waters must be equipped with zero emission technology as part of a plan to cut maritime pollution.
Monday - Farmers are switching from cattle to camels as some parts of Africa are getting hotter and drier.
12 Jul 19 - A group of citizens is suing the Indonesian government, including the president, over the poor air quality in Jakarta, which in recent weeks has ranked as the worst in the world.
12 Jul 19 - A fifth of the world's major cities will face "unknown" climate conditions by 205 as rising temperatures heighten the risks of drought and flooding.
12 Jul 19 - The UK government's own advisers have declared themselves shocked that the Britain has no proper plans for protecting people from heatwaves, flash flooding and other impacts of the climate crisis.
---