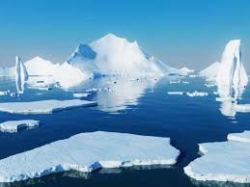 Today 11:00am - The Arctic is warming more than twice as fast as the rest of the planet, suggests a major assessment of the region.

Friday - A three-foot rise in sea level would submerge almost 20 per cent of Bangladesh and displace more than 30 million people - and the actual rise by 2100 could be significantly more.

Thursday - Global sea level rise could happen at nearly twice the rate previously projected by the UN, according to a new report.

Thursday - In what may be good news only for cactus, termites and drought-resistant grasses, subtropical dry areas are going to expand over large parts of the Earth as the climate warms.

Wednesday - Ministers from countries on the front line of climate change have urged rich nations to stop pouring money into the coal, oil and gas industries.

Wednesday - After a 170-year delay, the discovery of a strange, metallic-looking rock found in the Ural Mountains in Russia in 1839 has ignited a global technology race for a cheaper, more efficient solar cell.

21 Apr 17 - The UK government's decision to sell the Green Investment Bank to Australian bank Macquarie for £2.3bn has been attacked by critics including the Liberal Democrats and Greenpeace as "politically dubious" and a "disaster.
---
20 Apr 17 - A committee of Brazil's Congress has approved proposals to roll back protections on 1.1 million hectares of forest and national park.
20 Apr 17 - From the ochre-coloured Australian outback to the windswept Scottish coast, cricket is defined almost entirely by the weather conditions. If they change, so does the essence of the game.
20 Apr 17 - A freezer malfunction at a university has melted part of the world's largest collection of ice cores from the Canadian Arctic, reducing some of the ancient ice into puddles.
19 Apr 17 - Donald Trump is a creep and unpleasant to look at, but at least he's not a stunning hypocrite when it comes to climate change, says climate activist Bill McKibben.
19 Apr 17 - Around 250 million years ago, life on Earth nearly came to an end, in a mass extinction between the Permian and Triassic periods known as the Great Dying.
18 Apr 17 - Next Saturday, in Washington, and in hundreds of rallies around the world (including New Zealand), scientists and their supporters will stage what is likely to be the largest gathering of its kind in...
13 Apr 17 - People in Bangladesh are eating 30 per cent more fish than they did 20 years ago, but they are getting a smaller amount of important nutrients from it.
12 Apr 17 - Nations attending a G7 summit could not release a joint climate statement at the end of a meeting this week because the Trump administration is reviewing its policies.
12 Apr 17 - Global policymakers should set their sights on 2020 as the deadline for delivering the rapid emissions cuts needed to save the world from dangerous global warming, according to a new campaign...
12 Apr 17 - Traces of pesticides known as neonicotinoids for the first time have been found drinking water.
10 Apr 17 - The world is "meandering into a failed future" because of its unwillingness to take decisive action on climate change, a leading UK academic has warned.
10 Apr 17 - Even in the white-out world of ice, the Arctic is growing greener. Plankton blooms below the frozen ocean and in Greenland's icy mountains meltwater ponds become little ecosystems that will...
---