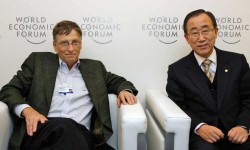 Thursday - Far more must be invested in adapting to warming, says a new global commission that aims to rebuild political will after the US withdrawal from the Paris Agreement.

Thursday - Climate researchers must understand the past before they can understand the future. But across huge swaths of the world, scientists simply don't have the data they need.

Wednesday - More than 300 mammal species have been eradicated by human activities, say researchers.

Wednesday - Trouble is brewing for the world's beer drinkers, with climate change set to cause dramatic price spikes and supply shortages, according to new research.

Tuesday - The lush green lawns surrounding many homes, businesses, parks and other outdoor spaces might not be the greatest idea, according to scientists.

12 Oct 18 - Sugary drinks giant Coca-Cola, a company valued at $US56.4 billion, has emerged as by far the most common brand in audits of plastic debris found on beaches and in waterways, parks and streets.

12 Oct 18 - A major study finds huge changes to farming are needed to avoid destroying Earth's ability to feed its population.
---
11 Oct 18 - Sometime in the next few weeks, global oil consumption will reach 100 million barrels per day - more than twice what it was 50 years ago - and it shows no immediate sign of falling.
11 Oct 18 - Dutch scientists say they can create swarms of bee-like drones to take over if the insects die out.
10 Oct 18 - Carbon emissions from the energy sector are on track to grow for the second year running, in a major blow to hopes the world might have turned the corner on tackling climate change.
10 Oct 18 - A Nobel Prize has been awarded to American academic William Nordhaus who originated the idea of a 2deg global warming limit but last year cast doubt on our ability to reach it.
9 Oct 18 - From the beginning of next year, a global pact will take effect that could have a profound impact on climate change, cutting harmful greenhouse gas emissions by amounts that could help stave off some...
4 Oct 18 - Confidential US comments on a landmark global warming report raise doubts about the science behind it, warn that it risks crimping economic development and advocate for carbon-catching technologies.
3 Oct 18 - Leading scientists are meeting in South Korea this week to see if global temperatures can be kept from rising by more than 1.5deg this century.
3 Oct 18 - Last month, deep in a 500-page environmental impact statement, the Trump administration made a startling assumption - on its current course, the planet will warm a disastrous 7deg by the end of this...
3 Oct 18 - A jury ruled that agrochemical company Monsanto caused Dewayne Johnson's cancer.
2 Oct 18 - The Earth isn't solid – which makes it hard to predict how the submerging of our coastlines will unfold.
1 Oct 18 - Governments are "nowhere near on track" to meet their commitment to avoid global warming of more than 1.5deg, according to an author of a key UN report.
1 Oct 18 - The UK, Canada, Denmark and Spain joined a coalition to slash emissions to net zero on the sidelines of the UN general assembly in New York.
---