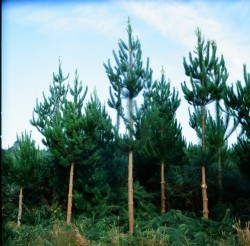 7 Sep 17 - New Zealand won't get more carbon-sequestering forests until land prices fall.

5 Sep 17 - The Green Party wants a regional research institute to develop high-value wood products as part of a strategy to reduce greenhouse gas emissions.

31 Aug 17 - Forest owners are hoping next month's general election will lead to more forestry-friendly government policies – especially if New Zealand First is in the driving seat.

10 Aug 17 - The Government's reinstated Afforestation Grants Scheme will fund 5283 hectares of new forest this year.

8 Aug 17 - The introduction of a national environmental standard for plantation forestry is vitally needed, forest owners say.

4 Aug 17 - The best way of managing trees and forests for climate change and accounting for contributions of forests and forestry activities in carbon budgets remains hotly contested.

3 Aug 17 - The regeneration of vast areas of carbon-storing native forests is being hampered by "pickiness" over the definition of carbon forests.
---
2 Aug 17 - The forestry sector has behaved rationally in response to the Emissions Trading Scheme - but the scheme itself hasn't always been rational, a new analysis shows.
1 Aug 17 - The Government's latest changes to the Emissions Trading Scheme will do nothing to get more trees in the ground, the forestry sector says.
25 Jul 17 - Paying landowners not to cut down trees is cheaper than the carbon-related costs the destruction of the forests would cause, new research shows.
20 Jun 17 - Leading researchers have condemned attempts to change the way carbon from trees will be counted in Europe.
26 May 17 - The Government's Budget will not get landowners planting trees on the scale needed to meet New Zealand's Paris Agreement commitments, forest owners say.
11 May 17 - A price range for carbon and a promise that changes to the Emissions Trading Scheme will be backdated would get landowners planting carbon-sequestering trees now, says the Forest Owners' Association.
5 May 17 - New Zealand will need an extra 17,000ha of new forest to offset emissions from a new gas-fired power station at Otorohanga, the Green Party says.
27 Apr 17 - Applications for the latest round of the Government's Afforestation Grants Scheme close tomorrow.
26 Apr 17 - Landowners with 10,000 hectares of native forest could earn $1.5 million a year in carbon credits, a new report says.
29 Mar 17 - Landowners are planting forests again – and farmers looking to offset emissions appear to be among them.
15 Mar 17 - Landowners wanting to plant small-to-medium-sized new forests might be able to get some government funding to help them.
9 Mar 17 - Countries are free to manage their forests as they choose, but reducing them to a tool of light-fingered carbon accounting can leave world deprived of vital carbon sinks.
---