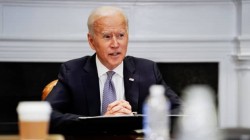 Wednesday - More than 300 businesses have called on President Joe Biden to nearly double U.S. targets to reduce planet-warming emissions below 2005 levels by 2030.

6 Apr 21 - The New York Times takes a deep dive into the question of whether climate change action will create or destroy jobs.

1 Apr 21 - United States President Joe Biden says his new infrastructure plan will allow "transformational progress in our ability to tackle climate change" by bolstering investments in clean energy, electric vehicles and building homes resilient to threats posed by the climate crisis.

22 Mar 21 - Canceled four years ago by a president who considered global warming a hoax, climate crisis information has returned to the website of the US government's Environmental Protection Agency (EPA) as part of Joe Biden's promise to "bring science back".
17 Mar 21 - America's finance industry has backed polluters for decades. Now, amid growing pressure, Wall Street says it is going green.

16 Mar 21 - The series of severe droughts and heatwaves in Europe since 2014 is the most extreme for more than 2,000 years, research suggests.

15 Mar 21 - United States Special Presidential Envoy for Climate John Kerry says he is concerned about the implications of the European Union's plans for a carbon border tax.
---
11 Mar 21 - United States climate envoy John Kerry says Europe and Washington need to align on climate policy, confirming the new US administration's policy shift away from Donald Trump's roll-back of...
10 Mar 21 - The United States must halve its planet-heating emissions by the end of the decade to spur other countries to greater action, says a coalition of American environmental groups.
8 Mar 21 - Twelve years ago, the American Petroleum Institute ran an ad in the print version of the Washington Post. "If you like $4 gasoline," it read, "you'll love the House Climate Bill."
4 Mar 21 - When Weatherly Oil and Gas filed for bankruptcy in February 2019, the company was walking away from several hundred Texas wells.
24 Feb 21 - United States federal energy regulators say they will examine threats that climate change and extreme weather events pose to the country's electric reliability in the wake of last week's deadly Texas...
23 Feb 21 - Big companies donated to climate deniers in the US Congress—even while claiming to care about climate change. When those same lawmakers denied the results of the presidential election, the bill came...
12 Feb 21 - The United States − per head of population perhaps the world's most prodigal emitter of greenhouse gases − can reverse that and have a carbon-free future within three decades, at a cost...
28 Jan 21 - United States president Joe Biden has unveiled a radical change in direction from the Trump era by halting fossil fuel activity on public lands and directing the United States government to start a...
27 Jan 21 - The United States will "make good" on financial commitments to developing countries struggling with climate change, top US climate envoy John Kerry has told a summit of world leaders.
22 Jan 21 - Joe Biden has moved to reinstate the US to the Paris climate agreement just hours after being sworn in as president, as his administration rolls out a cavalcade of executive orders aimed at tackling...
10 Nov 20 - United States president-elect Joe Biden promises to usher in a more confrontational era of climate diplomacy, putting a spotlight on major emitters slow-walking climate action
9 Nov 20 - Joe Biden is heading to the White House with a promise to overturn four years of US retreat on climate action.
---