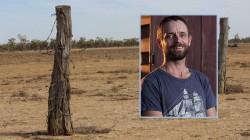 Wednesday - THE Northern Territory could lose one-third of its doctors because of the ever-increasing heat, according to a new study ringing alarm bells for all regional areas.

Wednesday - Landscape News reports that the newly popular field of soil microbiome restoration research could provide a major new tool for carbon capture.

Wednesday - At any moment, on any school day, the entire future of the Quileute Tribe is at risk.

Wednesday - MEDIA RELEASE - Scientific Beta launches unique series of pure climate indices that translates companies' climate performance and alignment engagement into portfolio decisions

Wednesday - Media Release - When Dr Christopher Cornwall began his biological research career, three unanswered questions bothered him about how climate change might affect marine organisms.

Tuesday - France is offering the owners of old, exhaust-belching cars the opportunity to hand over their vehicles for scrap in return for a 2,500 euro grant to buy an electric bicycle.

Tuesday - The US is negotiating a multi-billion dollar climate deal with Brazil that observers fear could help the reelection of president Jair Bolsonaro and reward illegal forest clearance in the Amazon.
---
Tuesday - Over a third of the Antarctic ice shelf is at risk of collapsing as Earth continues to warm.
Tuesday - With support from the Australian government, the Adani corporation is pushing ahead with an environmentally destructive coal mine in Queensland. But the traditional Aboriginal owners of the land, the...
Monday - A new study has found that economic growth and total greenhouse gas emission have been decoupled in 32 developed nations - including New Zealand... just.
Monday - European Union plans to impose taxes on carbon at its border are "discriminatory" and unfair to developing nations, ministers from Brazil, South Africa, India and China have warned.
Monday - The Marshall and Solomon Islands are calling on the International Maritime Organisation to introduce a US$100 levy on GHG emissions.
Monday - A fight over Greenland's rich oil, gas and mineral deposits is raging, as global warming melts ice and exposes rich reserves. Now Greenlanders are struggling to balance economic growth and...
Monday - Media release - National has written to Climate Change Minister James Shaw calling for him to extend the report-back time on the Climate Change Commission Report, National's Climate Change...
Friday - Levels of the two most important anthropogenic greenhouse gases, carbon dioxide and methane, continued their unrelenting rise in 2020 despite the economic slowdown caused by the coronavirus pandemic...
Friday - When President Xi Jinping committed China to achieving carbon neutrality by 2060 at the UN General Assembly, this was good news for many, including electric vehicle manufacturers and the renewable...
Friday - On Wednesday this week, the New South Wales Deputy Premier and Minister for Regional NSW, Industry and Trade John Barilaro stood next to a train packed with coal, hurtling past metres away as he...
Friday - Climate change may be sparking more lightning in the Arctic, a study has found.
8 Apr 21 - China powers nearly 80 per cent of the global cryptocurrencies trade, but the energy required could jeopardise its pledge to peak carbon emissions by 2030.
---