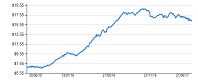 Tuesday - Spot NZUs opened today at $16.30 bid and $16.70 offered, after last fixing at $16.50.

Tuesday - One of the world's biggest energy companies sees problems ahead with falling fossil fuel demand and huge growth in renewables.

Tuesday - Seas are rising faster, prompting scientists to warn that coastal adaptation plans should be put in place urgently.

Tuesday - The largest Iceland eruption in 230 years offers a unique look into how aerosols affect the atmosphere.

Tuesday - Organic farming does not always benefit the environment in the ways people expect, and might not avert climate change effects, scientists say.

Tuesday - What do ExxonMobil, Stephen Hawking, the Nature Conservancy, and Ronald Reagan's secretary of Treasury and chief of staff have in common?

Tuesday - Australians who live in apartments have largely been locked out of the solar revolution by a minefield of red tape.
---
Monday - Spot NZUs opened today at $16.30 bid and $16.60 offered, after last fixing at $16.50.
Monday - Institutional investors remain eager to put money to work on renewable energy projects even as US President Donald Trump has vowed to revive their chief competitor: coal.
Monday - Australia's Climate Council is calling for the backlog of the nation's emissions data to be urgently released, with the Federal Government failing to provide the nation's quarterly data for more than...
Monday - To small island nations where the land juts just above the rising seas, the US pulling out of the Paris global warming pact makes the future seem as fragile and built on hope as a sand castle.
Monday - Panasonic has started producing a 180-watt array of solar cells that can be put on the roof of a vehicle.
Monday - There is a fearful irony to recent news of flooding at the Svalbard Global Seed Vault in Norway.
Friday - Some of the world's top banks are continuing to lend tens of billions for extracting the most carbon-intensive fossil fuels, according to a report of top lenders.
Friday - More than $10 trillion will be invested in new power generation capacity by 2040, of which nearly three-quarters will be in renewables.
Friday - Even if all the Paris Agreement nations do their part, governments alone can't substantially reduce the risk of catastrophic climate change.
Friday - On the roof of a waste incinerator outside Zurich, a Swiss firm has built the world's first commercial plant to suck CO2 directly from the air.
Friday - Faced with pollution and rising sea levels, cities around the world are setting targets at a record pace.
Friday - Bad behaviour doesn't usually have good consequences but our fossil fuel and fertiliser habits may have had some "good" environmental side-effects.
---