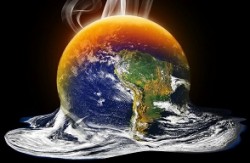 Thursday - A new global temperature baseline casts doubt on humanity's ability to meet the Paris target.

Thursday - Britain will ban all new petrol and diesel cars and vans from 2040 amid fears that rising levels of nitrogen oxide pose a major risk to public health.

Thursday - Google and a leading US fusion company have developed a new computer algorithm that significantly speeds up progress toward clean, limitless energy.

Thursday - As a trio of lawsuits in California claim compensation for sea rises resulting from fossil fuel emissions, campaigners say carbon majors must change their business models.

Thursday - India's future is still tied to coal and fixing woeful inefficient plants will create huge new generation at a price solar cannot match.

Thursday - Australia's world-leading indigenous land management and carbon farming programmes are spreading internationally, with a formal agreement signed to help to build a similar programme in Canada.

Wednesday - Spot NZUs opened today at $17.65 bid and $17.75 offered, after last fixing at $17.65.
---
Wednesday - About 49 million acres of forest disappeared worldwide in 2015, mainly in North America and the tropics, putting the year's global deforestation level at its second-highest point since data gathering...
Wednesday - A recent heatwave in Siberia's frozen wastes has resulted in outbreaks of deadly anthrax and a series of violent explosions.
Wednesday - Foreign animals and plants can cause huge damage in vulnerable nations like New Zealand, with the march of Argentine ants a new example of how climate change is boosting the threat.
Wednesday - A group of UK businesses and investors have written to Prime MInister Theresa May, urging her to raise the country's ambitions to tackle climate change.
Wednesday - The Indian government is diverting $25 billion earmarked for clean energy to an unrelated policy, a national news site has revealed.
Wednesday - French and German cities using trams to move products are showing how to cut congestion while making a profit from the network.
Tuesday - Spot NZUs opened today at $17.50 bid and $17.55 offered, after last fixing at $17.52.
Tuesday - A stretch of coral reef off Mexico is the testing ground for a new idea that could protect fragile environments around the world - insurance.
Tuesday - China has anounced that it will no longer be importing foreign garbage shipments.
Tuesday - Justin Trudeau has proposed to end Canada's coal use, tax carbon pollution and invest in clean energy technology. But he also wants to keep Canadian oil flowing.
Tuesday - Paying landowners not to cut down trees is cheaper than the carbon-related costs the destruction of the forests would cause, new research shows.
Tuesday - Climate change campaigns that focus on correcting public beliefs about scientific consensus are likely to backfire and undermine policy efforts, according to an expert commentary.
---