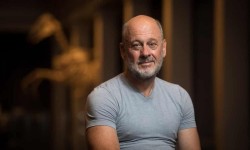 Thursday - Author and scientist Tim Flannery, who has returned to his roots at the Australian Museum, says the world is about to see a major shift towards climate action.

Thursday - A volunteer conservation army could mobilise young people who want to fight climate change by channelling them into work to restore ecosystems.

Wednesday - Just suppose we could see a way to transform the global economy, society and even the environment so that they met real needs, and promised to go on doing so far into the future. Well, we can. And it's growing simpler all the time, futurologists say.

18 Mar 19 - The US has joined Saudi Arabia to derail a UN resolution that sought to improve the world's understanding of potential efforts to lace the sky with sunlight-reflecting aerosols or use carbon-catching fans.

18 Mar 19 - Scientists were warning about the risks of climate change and the burning of fossil fuels before today's world leaders were Greta Thunberg's age.

15 Mar 19 - Earth is sick with multiple and worsening environmental ills killing millions of people yearly, a new UN report says.

15 Mar 19 - Extractive industries are responsible for half of the world's carbon emissions and more than 80 per cent of biodiversity loss, according to a comprehensive new survey.
---
14 Mar 19 - The number of early deaths caused by air pollution is double previous estimates, according to research, meaning toxic air is killing more people than tobacco smoking.
14 Mar 19 - As human growth adds to our numbers and demands, other species' survival chances shrink. Scientists can now name 1,700 creatures at ever greater risk.
13 Mar 19 - Nearly 14 per cent of global greenhouse gas emissions will be subject to a carbon price this year, World Bank figures show.
13 Mar 19 - Sales of synthetic chemicals will double over the next 12 years with alarming implications for health and the environment, according to a new global study.
12 Mar 19 - By 2050, half the world's population could be at risk of mosquito-borne diseases like dengue fever or the Zika virus, new research suggests.
11 Mar 19 - Driving is ruining our lives, and triggering environmental disasters. Only drastic action will kick our dependency.
8 Mar 19 - Mining giant Glencore spent millions bankrolling a secret, globally coordinated campaign to prop up coal demand.
7 Mar 19 - The world's wetlands provide $69 trillion worth of services a year, scientists say.
4 Mar 19 - The biggest agricultural authority in the world has warned that the web of life is coming apart as the loss of biodiversity increases.
4 Mar 19 - Warming ocean waters have already taken a toll on the world's fisheries, and the impact will worsen if greenhouse gas emissions continue at their current pace, according to a pair of just-published...
28 Feb 19 - After water, concrete is the most widely used substance on Earth. If the cement industry were a country, it would be the third largest carbon dioxide emitter in the world with up to 2.8 billion...
28 Feb 19 - A move is under way to create a Nobel Prize for climate change and raise as much as $40 million in contributions to fund a climate prize.
---