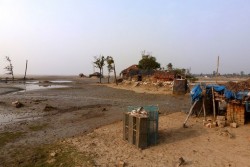 Tuesday - As climate change leads to the flooding of whole countries a "climate passport" might allow the most distressed to settle in countries that have been largely responsible for the impact.

Tuesday - The Pacific yew tree and the Gila monster have an unlikely connection ... and that's good news for the future of the human race.

Monday - Through the cacophony of the UN's global climate talks, an Australian farmer is quietly spreading his plan to reforest the world.

Monday - It might not look like a pristine expanse of Amazon rainforest or an African savannah, but the patch of bush at the end of the street could be one of the only places on the planet that harbours a particular species of endangered animal or plant.

Friday - As delegates at the UN climate summit in Poland discuss the possibility of restraining global warming to 1.5deg, it might sound like a reasonable question to ask how much money it will cost if they fail.

13 Dec 18 - Green activists are fighting to save us all – so why do their sacrifices warrant punishment?

11 Dec 18 - The start date of an important element of the Paris Agreement would be set 23 years in the future under a proposal from major emerging economies.
---
7 Dec 18 - This parched world's landlocked basins – they make up a fifth of the Earth's surface – have lost at least 100 billion tonnes of water every year since the century began.
7 Dec 18 - People in rich nations will have to make big cuts to the amount of beef and lamb they eat if the world is to be able to feed 10 billion people, says a new report.
6 Dec 18 - The World Bank will make about $200 billion available to fund action on climate change from 2021-25, helping countries to adapt to the effects of warming and to reduce greenhouse gas emissions.
5 Dec 18 - Eco-friendly British fashion designer Stella McCartney has announced a United Nations charter for Sustainable Fashion.
30 Nov 18 - China must play a leading role if the world is to draw up a new and more effective strategy to halt the collapse of life on Earth, according to senior delegates at the close of this week's UN...
30 Nov 18 - The global food system is broken, leaving billions of people either underfed or overweight and driving the planet to climate catastrophe, scientists say.
30 Nov 18 - The recent impact of climate change on heat-related diseases should be seen as a harbinger of future dangers including the threat of a systemic failure of hospitals, says a Lancet report.
29 Nov 18 - Everything that humans eat or drink comes directly or indirectly from plants. Many wild plant ancestors, of even the most precious species, could be at risk.
28 Nov 18 - Countries are failing to take the action needed to stave off the worst effects of climate change, a UN report has found, and the commitments made in the Paris Agreement will not be met unless...
27 Nov 18 - The collapse in bee populations can be reversed if countries adopt a new farmer-friendly strategy, says the architect of a new masterplan for pollinators.
23 Nov 18 - The main greenhouse gas emissions driving climate change have all reached record levels, UN experts have reported.
23 Nov 18 - Despite its claims of being green, most of China's Belt and Road Initiative money is still flowing into fossil fuel projects and traditional transport.
---