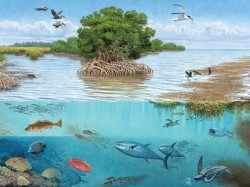 Thursday - Global warming is about to tear big holes into Earth's delicate web of life, pushing temperatures beyond the tolerance of thousands of animals at the same time.

Wednesday - The average level of methane in the atmosphere increased last year by the highest amount in five years, according to new data.

Wednesday - Human inroads into tropical forests stretch far beyond oil plantations or the edge of cattle ranches and are a wider threat to conservation.

Monday - The next time the fertile soils of North America turn to dust, the consequences will hit food stocks worldwide.

3 Apr 20 - Analysts say the coronavirus pandemic and a savage price war means the oil and gas sector will never be the same again.

2 Apr 20 - Barclays has bowed to investor pressure over its climate track record and announced plans to shrink its carbon footprint to net zero by 2050.

1 Apr 20 - From an economic perspective, there are four possible futures post-covid-19: a descent into barbarism, a robust state capitalism, a radical state socialism, and a transformation into a big society built on mutual aid.
---
1 Apr 20 - Four global drinks giants are responsible for more than half-a-million tonnes of plastic pollution in six developing countries each year, enough to cover 83 football pitches every day, according to a...
31 Mar 20 - The Global covid-19 crisis and the climate and biodiversity crises are deeply connected, health experts say.
30 Mar 20 - Governments and financial institutions are under growing pressure to make economic bailouts designed to counter the coronavirus pandemic dependent on climate action in the longer term.
27 Mar 20 - Scientists are monitoring the atmosphere at a mountaintop in Hawaii for clues that the coronavirus will be the first economic shock in more than 60 years to slow a rise in carbon dioxide levels that...
27 Mar 20 - The coronavirus pandemic is shutting down industrial activity and temporarily slashing air pollution levels around the world, satellite imagery shows.
26 Mar 20 - The World Meteorological Organisation says it's too soon to predict the impact the covid-19 pandemic will have on climate change.
26 Mar 20 - The world might soon run out of space to store its extra oil as Saudi Arabia prepares to increase fossil fuel production.
25 Mar 20 - Royal Dutch Shell plans to slash $9 billion from its spending plans to weather the collapse in oil market prices in the wake of the coronavirus outbreak.
24 Mar 20 - Shutting down the global airline industry for good would deliver only a fraction of the emissions reductions needed in a year to avert disastrous levels of climate change, an expert says.
24 Mar 20 - Changeable weather in mid-latitude countries might have masked the impact of climate crisis up to now, a new study finds.
24 Mar 20 - Predictions based on past weather extremes are dramatically underestimating growing threats of extreme heat and rain linked to warming, researchers find.
23 Mar 20 - The coronavirus pandemic has created a quandary for the climate activists just as the movement has achieved unprecedented momentum.
---