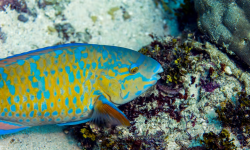 Today 11:00am - Mass migration of species to cooler climes has profound implications for society, pushing disease-carrying insects, crop pests and crucial pollinators into new areas.

Today 11:00am - Western consumers who buy cheap imported toys, clothes and mobile phones are indirectly contributing to tens of thousands of pollution-related deaths in the countries where the goods are produced.

Thursday - The European Union has led criticism of Donald Trump's effort to unravel Barack Obama's measures to combat climate change, suggesting that Europe will now take the lead in global efforts.

Thursday - European Union countries exploited loopholes in United Nations forestry rules to pocket carbon credits worth €600 million and the equivalent of global-warming emissions from 114 million cars.

Wednesday - Erosion, rising seas, ferocious storms and other coastal perils have prompted the resettlement of more than one million people worldwide.

Tuesday - The Great Barrier Reef might never fully recover from the combined effects of global warming and an El Niño year, according to a new study.

Monday - The United Nations is acknowledging that some countries might be retreating in the effort to fight climate change, recognising an emerging fissure in the landmark Paris Agreement as US President Donald Trump moves forward with plans to gut environmental programmes.
---
Monday - Imagine, for a second, that the slice of delectable cake melting in your mouth was made with flour ground from insects not grains.
24 Mar 17 - Oil theft is fuelling terrorist groups and drug cartels around the world, according to a new analysis.
24 Mar 17 - The extent of Arctic ice has fallen to a new wintertime low, as climate change drives freakishly high temperatures in the polar regions.
22 Mar 17 - More sustainable use of materials and energy would not only cover the cost of keeping global warming below 2deg, but also add an extra $2 trillion to the global economy by 2050, says the United...
22 Mar 17 - The record-breaking heat that made 2016 the hottest year recorded has continued into 2017, pushing the world into "truly uncharted territory", according to the World Meteorological Organisation.
22 Mar 17 - Once upon a time, the Sahara was green. There were vast lakes. Hippos and giraffe lived there, and large human populations of fishers foraged for food alongside the lakeshores.
22 Mar 17 - One of the UK's trickiest waste problems is being tackled by turning the undesirable into the combustible – tampons and incontinence pads are being converted into dry, burnable bales.
21 Mar 17 - Carbon dioxide emissions from energy have not increased for three years in a row even as the global economy grew, the International Energy Agency says.
21 Mar 17 - Kenya has announced a ban on the use, manufacture and import of all plastic bags which will come into force in six months.
20 Mar 17 - Pets can have a large ecological footprint ... some sustainable living experts say that a medium-size dog could have a similar footprint to a large SUV.
16 Mar 17 - The theory of human-induced climate change is based on the honest reporting of facts, says a new study into publication bias.
16 Mar 17 - Without nature, humans could be neither healthy nor happy. And yet the natural world can be completely ransacked without causing even a tiny blip on our usual measures of economic progress or poverty.
---