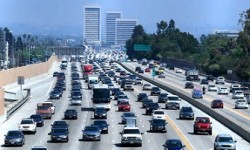 18 Oct 17 - Electric cars won't eradicate city gridlocks and air pollution, but carbon footprints could be cut by favouring pedestrians, cyclists and mass transit.

27 Sep 17 - Green building rating systems are an essential tool in the fight to achieve a net zero emissions built environment.

22 Sep 17 - First prize in a tropical architecture design competition went to an 11-storey marvel built using recycled building materials, waste plastic and glass bottles.

20 Sep 17 - Vancouver - the mountain-fringed, bicycle-friendly, pot-loving host of the 2010 Winter Olympics - wants to be the world's greenest city by 2020.

14 Sep 17 - From New York's cafe squares to the laneways of Melbourne, pedestrian paradises combine safety, beauty and comfort. Now urban planners are taking note as they seek to hand back cities to the walkers.

6 Sep 17 - Dubai has approved the construction of 500km of bicycle lanes as part of air pollution mitigation efforts.

21 Aug 17 - The summer temperature in Kuwait now frequently touches 50deg. The Gulf state last year was awarded the grim prize of being the hottest place on Earth, when temperatures reached a staggering 54deg.
---
15 Aug 17 - ABOUT 60 per cent of the world's city dwellers have experienced warming twice as great as the rest of the world.
25 Jul 17 - New Zealand's mayors want a national emissions reduction plan and a stocktake of the likely cost to the country of climate change – something Prime Minister Bill English has steadfastly rejected.
21 Jul 17 - Cities are getting hotter as the planet warms, and the consequences can be deadly - a heat wave hit Russia in 2010 and killed 55,000 people.
21 Jul 17 - Cape Town, experiencing its worst drought in 100 years, has taken the situation as an opportunity to seek solutions which could be of use in other parts of Africa.
20 Jul 17 - Homebuyers could take out bigger mortgages if the energy ratings of properties were factored into the lending criteria of banks and building societies, new research has found.
17 Jul 17 - The world is urbanising at a pace never before seen in human history. By 2050, 66 per cent of the world is projected to live in cities.
17 Jul 17 - As the international community putters along, cities and local communities are already staking out the front lines of the fight against climate change.
27 Jun 17 - Australians who live in apartments have largely been locked out of the solar revolution by a minefield of red tape.
23 Jun 17 - Faced with pollution and rising sea levels, cities around the world are setting targets at a record pace.
20 Jun 17 - New Zealand's two largest cities are failing to cut greenhouse gas emissions because of the Government's lack of action on climate change, new research shows.
20 Jun 17 - United States cities and states are increasingly seeking ways to play an active role in international climate change efforts.
19 Jun 17 - Green roofs and walls insulate buildings and soak up rain. And like trees and hedges, they absorb pollutants. What's not to like?
---