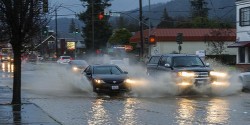 Friday - The population of inland American cities will alter drastically if predictions of dramatic sea level rises by 2100 are correct, a new report suggests.

Wednesday - Former New York mayor Michael Bloomberg has urged world leaders not to follow Donald Trump's lead on climate change, and declared his own intention to stave off the "tragedy" that would be the collapse of the Paris climate deal.

21 Apr 17 - Trump administration officials have postponed a meeting scheduled for this week to discuss the US government's position on the Paris climate change agreement.

18 Apr 17 - President Trump's most senior advisers will huddle this week to resolve long-simmering tensions over whether the United States should stay in the Paris climate change agreement.

12 Apr 17 - Carbon emissions from US electric power plants have fallen by about 5 per cent for the second year in a row.

11 Apr 17 - Environmental campaigners have promised to wage fierce and protracted legal battles against "outrageous and wrong-headed" Trump administration moves.

7 Apr 17 - A coalition of 17 US states has filed a legal challenge against efforts by President Trump's administration to roll back climate change regulations.
---
29 Mar 17 - President Trump has launched an all-out assault on Barack Obama's climate change legacy with a sweeping executive order that undermines America's commitment to the Paris agreement.
28 Mar 17 - President Trump is set to sign a sweeping executive order today aimed at promoting domestic oil, coal and natural gas by reversing much of his predecessor's efforts to address climate change.
22 Mar 17 - If anything, it's worse than expected: sweeping cutbacks to environmental programmes; an abandonment of efforts aimed at cleaning up air and water pollution around the US; and, most worrying for the...
16 Mar 17 - California's Senate leader wants the Golden State to shift to 100 per cent renewable electricity by 2045, pushing it to lead the country in grabbing that green power goal.
15 Mar 17 - US President Donald Trump is set to formally announce a review of vehicle fuel efficiency rules locked in at the end of the Obama administration when he meets with automaker chiefs this week.
10 Mar 17 - The new head of the US Environmental Protection Agency, Scott Pruitt, has moved to stock many of the agency's top offices with climate sceptics.
10 Mar 17 - Georgetown, Texas, is a conservative town in a conservative state. But it's one of the first cities in the United States to be entirely powered by renewable energy.
9 Mar 17 - Hawaii is intent on going all-renewable by 2045, eliminating fossil fuels and using only electric cars.
3 Mar 17 - The White House has proposed deep cuts to the Environmental Protection Agency's budget that would reduce the agency's staff by one-fifth in the first year and eliminate dozens of programmes.
28 Feb 17 - As US president Donald Trump announces a $54bn increase in defence spending, environmental agencies and UN climate funds face the axe.
27 Feb 17 - US fishing and conservation groups have sued the Environmental Protection Agency, seeking to protect wild salmon threatened by rising water temperatures attributed in part to climate change.
21 Feb 17 - The likely impact on human society of Donald Trump's Mexico wall has been well-noted, but in the longer-term a barrier across an entire continent will also have severe ecological consequences.
---