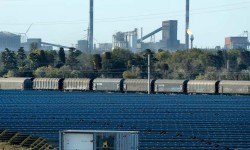 30 Oct 17 - Nearly nine out of 10 of the world's biggest companies have plans in place to reduce carbon emissions, new research has found, but only a fifth of them are doing so for 2030 and beyond.

17 Oct 17 - Major clothing and textile companies, including Burberry, Adidas, Timberland, and Levi's have pledged to use 100 per cent sustainable cotton by 2025.

13 Oct 17 - What is something worth? How do you put a dollar value on something like a river, a forest or a reef?

11 Oct 17 - Two-thirds of the investors surveyed by international accountancy company EY have already changed their investments because of carbon exposure.

11 Oct 17 - The World Bank is aiming to put 28 per cent of its funding into climate-related projects by 2020. But it does not track the greenhouse gas emissions of its portfolio, let alone have a target to reduce them.

9 Oct 17 - Blockchain – the technology developed by cryptocurrency pioneer Bitcoin to knock financial intermediaries out of transactions – has the carbon markets in its sights.

9 Oct 17 - Global businesses are, quite rightly, under scrutiny for what they are doing to tackle challenges such as climate change and poverty, writes STEPHEN BADGER, chairman of Mars Inc.
---
25 Sep 17 - Evian has introduced its first carbon-neutral bottling facility as part of the company's plans to become 100 per cent carbon neutral by 2020.
22 Sep 17 - Simplifying "sell by" dates should help to reduce food waste, which releases greenhouse gases as it rots in landfills. The move could save people money, too.
21 Sep 17 - Institutional investors in New Zealand and Australia want to put more money into good green businesses – if they can find them.
21 Sep 17 - A coalition of global corporations has launched a global campaign to accelerate the shift to electric vehicles.
21 Sep 17 - Asian beverage giant San Miguel Corporation announced that it will soon discontinue its bottled water business as part of its strategy to limit plastic waste.
14 Sep 17 - Companies operating in New Zealand have been named as some of the most obstructive to global action on climate change.
12 Sep 17 - The Government should take environmental and social impacts into account when it is letting contracts, Business New Zealand says.
12 Sep 17 - More than a quarter of sea level rise and about half the warming from 1880 to 2010 can be traced back to just 90 corporations, says a new report.
7 Sep 17 - A business initiative that safely disposes of climate-damaging gases from the refrigeration and air conditioning industries has had its accreditation as a product stewardship scheme extended.
31 Aug 17 - Finalists in this year's Sustainable Business Network awards have just been announced.
24 Aug 17 - Most New Zealand companies are already being affected by customer demands for environmental sustainability - or expect to feel an impact.
16 Aug 17 - Forty per cent of the New Zealand Super Fund is now low-carbon.
---