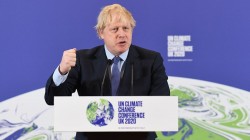 7 Dec 20 - The UK government has announced it will slash greenhouse gas emissions at least 68 per cent by 2030, compared to 1990 levels, in line with independent advice.

5 Nov 20 - This time next year, Scotland will be hosting a major UN climate change conference.

14 Oct 20 - Will delaying the COP26 UN climate negotiations impact international action to decarbonise? Would catch-up talks help? Could the talks collapse because countries stopped paying their dues?

3 Apr 20 - Green campaigners vowed to keep up the pressure on governments to make stringent new commitments on the climate crisis, as the COP26 climate summit was delayed until next year.

19 Mar 20 - Nicholas Stern, one of the most prominent global experts on the climate crisis, has urged UK leader Boris Johnson to resist calls to postpone vital UN climate talks this year, despite the coronavirus outbreak.

4 Mar 20 - Concern is growing among campaigners that vital UN climate talks in Glasgow later this year will be derailed by the coronavirus outbreak.

18 Feb 20 - UK Prime Minister Boris Johnson has appointed Alok Sharma to preside over the COP26 UN climate talks in November.
---
5 Feb 20 - Developing countries and climate campaigners are growing increasingly concerned that the UK lacks a clear strategy for hosting vital UN talks in Glasgow this year.