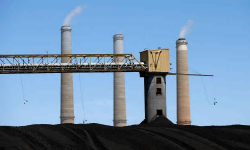 Wednesday - President Trump has launched an all-out assault on Barack Obama's climate change legacy with a sweeping executive order that undermines America's commitment to the Paris agreement.

Wednesday - The development and evolution of the chemical industry is directly responsible for many of the technological advancements that have emerged since the late 19th century.

Wednesday - The ability to keep things cold is a pillar of modern society – demand is booming worldwide to deliver air conditioning, data centre cooling and transport refrigeration, particularly in emerging economies.

Wednesday - Erosion, rising seas, ferocious storms and other coastal perils have prompted the resettlement of more than one million people worldwide.

Wednesday - Energy efficiency is a subject unlikely to grab the headlines, but there is a quiet revolution under way that is changing the electricity industry and helping to save the planet from climate change.

Tuesday - President Trump is set to sign a sweeping executive order today aimed at promoting domestic oil, coal and natural gas by reversing much of his predecessor's efforts to address climate change.

Tuesday - There is nowhere else on the planet right now where the dichotomy between two potential futures is playing out in such a dramatic and explosive way as Australia.
---
Tuesday - US scientists are set to send aerosol injections 20km up into the earth's stratosphere in the world's biggest solar geoengineering programme to date, to study the potential of a future tech-fix for...
Tuesday - By 2025, absolute water scarcity will be a daily reality for an estimated 1.8 billion people.
Tuesday - The Great Barrier Reef might never fully recover from the combined effects of global warming and an El Niño year, according to a new study.
Monday - California has adopted strict rules for the control of methane, including how to reduce emissions from the state's 1.4 million dairy cows.
Monday - Small tweaks to flight paths could reduce the effects that aircraft have on climate by as much as 10 per cent, a new study shows.
Monday - The United Nations is acknowledging that some countries might be retreating in the effort to fight climate change, recognising an emerging fissure in the landmark Paris Agreement as US President...
Monday - The future for China is likely to become increasingly unclear – and lurking behind the obscured outlook in the nation's capital is the spectre of climate change.
Monday - Imagine, for a second, that the slice of delectable cake melting in your mouth was made with flour ground from insects not grains.
Monday - Scientists in the US have proved it yet again that, in a rapidly warming world, mammals face a diminished future.
24 Mar 17 - Carbon fibre is increasingly celebrated as a wonder material for the clean economy.
24 Mar 17 - Oil theft is fuelling terrorist groups and drug cartels around the world, according to a new analysis.
24 Mar 17 - A plan to halve carbon emissions every decade, while green energy continues to double every five years, provides a simple but rigorous roadmap to tackle climate change, scientists say.
---