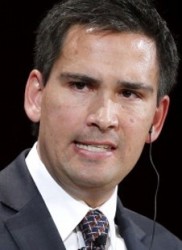 18 Jun 18 - By publisher ADELIA HALLETT | Is Opposition Leader Simon Bridges' offer to work with the Government on climate change policy worth any more than a dodgy hot-air carbon credit?

28 May 18 - By publisher ADELIA HALLETT | Debate about the future of oil prospecting in New Zealand is ignoring one very important point - the world is facing an emissions crisis, and the future does not include fossil fuels.

4 May 18 - By publisher ADELIA HALLETT | Did the Government consult the oil industry before announcing there would be no new licences granted for oil and gas exploration?

27 Apr 18 - By publisher ADELIA HALLETT | Debate about whether New Zealand can decarbonise without going bankrupt should now be over.

19 Mar 18 - By publisher ADELIA HALLETT | When it comes to action on climate change, we're pretty much back to where we were 10 years ago, when Carbon News started publishing.

2 Mar 18 - By publisher ADELIA HALLETT | Yesterday, a young woman told an audience that included two Cabinet ministers that she was suffering from depression because of climate change.

29 Sep 17 - The next three years are more than an electoral cycle; they make up the period that could determine – quite literally – what sort of world we live in. And that's what should be on the minds of politicians jockeying to form the next government.
---
25 Aug 17 - By publisher ADELIA HALLETT | A plan to lift the speed limit on some roads to 110 kilometres an hour is the latest example of New Zealand's lack of joined-up thinking on climate change.
18 Aug 17 - By publisher ADELIA HALLETT | "Climate change is the biggest story on any editor's news-list right now," claims a story in the Spinoff this week.
25 May 17 - The $14.2 billion being bandied about this week as the cost of ­­­New Zealand's Paris Agreement pledge is not solely attributable to the purchase of international carbon credits.
31 Mar 17 - By publisher ADELIA HALLETT | Thirty years ago today, New Zealand was on the verge of a breakthrough in environmental management.
21 Mar 17 - Two reports out today signal a sea-change for New Zealand. One says the New Zealand's economy is reaching its environmental limits. The other says New Zealand cannot meet its Paris Agreement...
13 Feb 17 - By editor ADELIA HALLETT | Try these numbers: Humans are causing the climate to change at 170 times the natural rate. Our "carbon budget" to keep warming below 1.5deg will be used up in five years....
4 Nov 16 - It's Paris Day – the day the Paris Agreement comes into force.
27 Oct 15 - By editor ADELIA HALLETT.- There's been a sea change in climate change. While some far-sighted New Zealand businesses have been planning for a carbon-constrained economy for some time, the rest of...
20 Dec 13 - It's been an interesting year, with new carbon markets opening in some of the largest economies in the world, including North America and China.
15 Nov 13 - By editor ADELIA HALLETT. The reason for the Government's failure to take decisive action on the biggest issue facing us became clear this week; it still doubts the science behind anthropogenic...
2 Aug 13 - The Prime Minister's chief science adviser has stepped into the leadership void on climate change.
19 Jul 13 - Controversy this week over an independent milk co-op's refusal to sign up to the Fonterra-led Sustainable Water Dairy Accord highlights the problems of self-regulation.
---