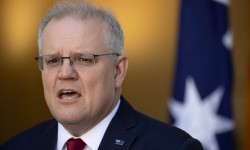 Monday - Australian Prime Minister Scott Morrison has declined to sign up to a net-zero target by 2050 because he is "more interested in the doing".

Monday - The European Commission is defending its plan to bring carbon removals from agriculture, land use and forestry into the EU's updated climate target for 2030, saying this is in line with UNFCCC standards.
Monday - New York's Union Square Metronome clock is being turned into a giant climate clock tracking the time left to transform the world's economy and energy systems to avoid catastrophic levels of climate change.

Friday - Portable emissions-free "power plants" could soon hit the road under plans by Toyota to fit some of the company's light-duty trucks with hydrogen fuel cells that can generate electricity.

Friday - China is considering carbon neutrality as part of its long term climate plan, the country's foreign ministry announced following a summit with EU leaders.

17 Sep 20 - Corporate heavyweight Andrew Liveris, the Morrison government's special adviser on manufacturing, has declared Australia and the world can hit net zero emissions by 2050 by significantly expanding the supply and domestic use of gas – despite gas being a fossil fuel with "roughly 60 per cent of the emissions of coal".

17 Sep 20 - Negotiators have ruled out an overhaul of private courts that allow energy companies to sue national governments when climate change policies hurt their profits.
---
17 Sep 20 - Change in the far north is happening so fast that soon the Arctic won't be arctic any more.
16 Sep 20 - There is strong evidence that deteriorating environments caused by climate change are driving millions of people to resort to mass migration in their search for a better life, both within countries...
16 Sep 20 - Facebook and Google are becoming carbon neutral businesses, joining competitors Apple and Microsoft in committing to put no excess carbon into the atmosphere, both companies have independently...
16 Sep 20 - What will be Australia's biggest solar farm once commissioning is complete – the 275MW Darlington project in south-west NSW – has sent its first output to the grid as it begins the lengthy journey to...
15 Sep 20 - SIR DAVID ATTENBOROUGH returns to television screens this with a landmark new production - but the tone is very different from his usual work.
15 Sep 20 - BP has called time on the world's rising demand for fossil fuels after finding that demand for oil may have already reached its peak and faces an unprecedented decades-long decline.
15 Sep 20 - French energy company Engie is teaming up with aerospace firm the ArianeGroup to steal a march on its rivals in the hydrogen production business, by drawing on expertise gained through Europe's space...
15 Sep 20 - The Asian Infrastructure Investment Bank is promising to end all coal financing, but has yet to write this into policy.
14 Sep 20 - Global temperatures could exceed the 1.5deg limit set in the Paris Agreement in the next decade, according to a World Meteorological Society report for the United Nations.
14 Sep 20 - Stephen Fry, Mark Rylance and a former Archbishop of Canterbury are among 150 public figures to hit back at government moves to classify the climate protesters of Extinction Rebellion as an...
14 Sep 20 - The European Parliament's environment committee has voted for a new EU-wide target to reduce carbon emissions 60 per cent by 2030, setting the stage for tough negotiations with EU countries and the...
11 Sep 20 - The devastating wildfires now sweeping across the western United States are among the sparks from climate change that could ignite a financial crisis by damaging home values, state tourism and local...
---