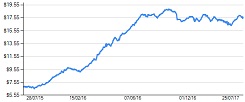 Wednesday - Spot NZUs opened today at $17.65 bid and $17.75 offered, after last fixing at $17.65.

Wednesday - About 49 million acres of forest disappeared worldwide in 2015, mainly in North America and the tropics, putting the year's global deforestation level at its second-highest point since data gathering began in 2001.

Wednesday - A recent heatwave in Siberia's frozen wastes has resulted in outbreaks of deadly anthrax and a series of violent explosions.

Wednesday - Foreign animals and plants can cause huge damage in vulnerable nations like New Zealand, with the march of Argentine ants a new example of how climate change is boosting the threat.

Wednesday - A group of UK businesses and investors have written to Prime MInister Theresa May, urging her to raise the country's ambitions to tackle climate change.

Wednesday - The Indian government is diverting $25 billion earmarked for clean energy to an unrelated policy, a national news site has revealed.

Wednesday - French and German cities using trams to move products are showing how to cut congestion while making a profit from the network.
---
Tuesday - Spot NZUs opened today at $17.50 bid and $17.55 offered, after last fixing at $17.52.
Tuesday - A stretch of coral reef off Mexico is the testing ground for a new idea that could protect fragile environments around the world - insurance.
Tuesday - China has anounced that it will no longer be importing foreign garbage shipments.
Tuesday - Justin Trudeau has proposed to end Canada's coal use, tax carbon pollution and invest in clean energy technology. But he also wants to keep Canadian oil flowing.
Tuesday - Paying landowners not to cut down trees is cheaper than the carbon-related costs the destruction of the forests would cause, new research shows.
Tuesday - Climate change campaigns that focus on correcting public beliefs about scientific consensus are likely to backfire and undermine policy efforts, according to an expert commentary.
Tuesday - Despite Tesla's success, the high risks of mass-producing an electric car from scratch haven't changed all that much.
Monday - The most obvious effect of global warming is not a doomsday scenario. Extreme heat is happening today, and wreaking havoc on vulnerable bodies.
Monday - Chinese-owned Volvo's move away from the internal combustion engine will fuel Beijing dominance in emerging clean technology.
Monday - Profligate fossil fuel use could cause Asian temperatures to rise by 6deg , bringing floods and food shortages for hundreds of millions.
Monday - Nearly one-third of tropical animal species face extinction if humans do not curb their growing appetites for beef, pork and other land-intensive meats.
Monday - The roads of Vietnam's capital have been taken over by the two-wheeled horde, but bringing in a ban by 2030 will be a tough ask.
---