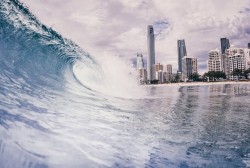 Tuesday - A warming planet will alter ocean waves along more than 50 per cent of the world's coastlines, according to research published today.

Tuesday - Australia's role as a leader in the global fossil fuel trade is underscored by a report that finds it is the world's third-biggest exporter and fifth-biggest miner of fossil-related emissions.

Tuesday - Emerging economies have called on rich countries to meet their pre-2020 climate targets and ramp up climate finance.

Tuesday - By GILLIAN ANDERSON | A new ocean treaty hangs in the balance. Our leaders must act boldly, and grasp the opportunity to protect these wild spaces.

Tuesday - Scientists have completed one of the first studies of the impact of drought and warmer temperatures on living organisms below the ground.

Monday - An army of tiny magnetic coils could dissolve microplastics from water, and possibly help us clean up waterways and oceans.

Monday - US Environmental groups have appealed a court decision in their attempt to end the Environmental Protection Agency's policy of excluding certain scientists from serving on its advisory boards.
---
Monday - Margins for European high sulphur fuel oil, used to power ships, sank last week as preparations for a global shift to cleaner maritime fuel next year start to weigh on prices.
Monday - Arresting the soaring increase in flying will be the first step towards a sustainable system of international travel – but how can it be done?
Monday - Boris Johnson's partner Carrie Symonds said politicians had a "gigantic responsibility to make the right decisions" over the climate crisis, in her first solo public appearance since moving into...
Friday - This week's Pacific Islands Forum comes at an important time in the overall trajectory of Prime Minister Scott Morrison's very personal commitment to an Australian "stepping up" in the Pacific.
Friday - The soaring popularity of the feisty, outspoken environmental advocate Greta Thunberg – who is only 16 – has caused a rise in young people seeking stories about saving the planet.
Friday - Europe has enough space to create millions of wind turbines that could power the entire world until 2050, according to a new scientific analysis.
Friday - Efforts to curb air pollution in China, a country already facing dire health impacts from high levels of soot and smog, will likely become increasingly difficult as the planet warms, a new study...
Friday - Climate change is taking the fun out of surfing, swimming, and snorkeling in Hawaii.
15 Aug 19 - Last year was the fourth-warmest since the 1800s and sea levels the highest on record, a new study finds.
15 Aug 19 - Fracking is probably the reason atmospheric methane is rising, with the United States shale gas industry behind a third of the increase in global greenhouses gas emissions over the past decade, new...
15 Aug 19 - India's most sacred river is also its most polluted, with plastic a major culprit. Now moves are afoot to monitor the flow of rubbish and assess its link to poverty.
15 Aug 19 - Modelling by the Australian Government shows 50 per cent of new domestic vehicle sales will be electric by 2035.
---