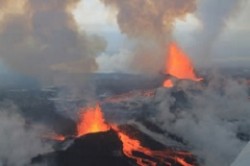 Tuesday - The largest Iceland eruption in 230 years offers a unique look into how aerosols affect the atmosphere.

Tuesday - What do ExxonMobil, Stephen Hawking, the Nature Conservancy, and Ronald Reagan's secretary of Treasury and chief of staff have in common?

Monday - There is a fearful irony to recent news of flooding at the Svalbard Global Seed Vault in Norway.

Friday - Even if all the Paris Agreement nations do their part, governments alone can't substantially reduce the risk of catastrophic climate change.

Thursday - Rising temperatures are set to wipe out half of Ethiopia's coffee-growing areas, with loss of certain locations likened to France losing a great wine region.

21 Jun 17 - Nearly a third of the world's population is now exposed to climatic conditions that produce deadly heatwaves.

21 Jun 17 - Deserts across the globe might contain some of the world's "missing" carbon sinks — land masses scientists had not previously identified that absorb carbon from the atmosphere.
---
21 Jun 17 - Former US vice-president Al Gore has compared climate change to historic "moral causes" such as abolishing slavery, universal suffrage, anti-apartheid, civil, and gay rights.
20 Jun 17 - The winners of an annual worldwide competition to spread clean energy have been urged to see it as a sustainability revolution.
19 Jun 17 - The Brazil government is set to roll back protections on vast areas of the Amazon that would legitimise land claims often made under fake names to avoid prosecution
19 Jun 17 - Canadian scientists have to think again as unusual Arctic warmth puts shipping at risk and icebergs freeze climate research plans.
16 Jun 17 - Another month is in the global temperature record books. While May just missed setting a record, the data is another reminder that climate change is making the world hotter and pushing it into a new...
16 Jun 17 - The tropics are emptying out as climate change pushes marine species toward cooler waters, and the fishing industry expands around the globe.
14 Jun 17 - Nine of the world's largest fishing companies have agreed to a joint UN pact to eradicate illegal catch, overfishing, and other unstainable practices.
14 Jun 17 - Of the 186 countries assessed in a recent survey of climate vulnerability, Chad was rated most in peril.
13 Jun 17 - Michael Gove's appointment as UK environment secretary is like "putting the fox in charge of the hen house".
12 Jun 17 - Norway's $960 billion sovereign wealth fund will ask the banks in which it has invested to disclose how their lending contributes to greenhouse gas emissions.
9 Jun 17 - The Canadian federal government will work directly with American states and cities on global warming in a broad strategy to become a leader on the issue.
8 Jun 17 - FORMER US president Barack Obama addresses the greatest challenges facing the world, and what we can do about them.
---