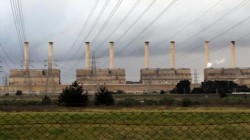 Today 11:00am - Australia's giant Hazelwood brown coal generator shut down the last of its eight units at 4pm yesterday, the latest and the most powerful symbol of the vast and rapid change in the nation's energy system.

Thursday - Sydney has a plan to be carbon-neutral by 2050.

Thursday - Despite knowing, approximately, where cyclones tend to occur, we've never thought about adjusting our cities to their effects.

Thursday - Climate change is one of the greatest threats facing Australia's wildlife, plants and ecosystems, a point driven home by two consecutive years of mass coral bleaching on the Great Barrier Reef.

Tuesday - There is nowhere else on the planet right now where the dichotomy between two potential futures is playing out in such a dramatic and explosive way as Australia.

24 Mar 17 - Australia's most polluting power station, Hazelwood, is set to become the ninth coal-fired power station to close its doors, as the nation's transition from fossil fuels to clean renewable energy continues.

20 Mar 17 - The Liberal New South Wales government, major energy users, manufacturers and businesses have urged the Finkel review of the electricity market to consider a price on carbon or a market mechanism.
---
17 Mar 17 - Australian Prime Minister Malcolm Turnbull wants to spend $2 billion on a hydro scheme that will potentially drive a stake through the heart of the country's fossil fuel generation industry.
14 Mar 17 - Australia's Climate Council has called for a rapid move away from all fossil-fuelled power sources to reduce the nation's rising carbon emissions and to protect against worsening extreme weather.
13 Mar 17 - Australia should put a price on carbon or risk investors moving their money out of the country, says a group representing more than $1 trillion worth of investment in New Zealand and Australia.
10 Mar 17 - Australia's Climate Institute will shut its doors after 12 years of providing independent advocacy and research towards climate change solutions, citing lack of funding.
8 Mar 17 - Australian farmers have called for a market-based mechanism to secure clean and affordable energy.
8 Mar 17 - Australians endured another intense summer, with more than 200 record-breaking extreme weather events driven by climate change, a new Climate Council report says.
8 Mar 17 - An independent review of the state of Australia's environment has found the impacts of climate change are increasing and some of the changes could be irreversible.
7 Mar 17 - Australia's big four banks invested three times as much in global fossil fuels as they did in clean energy in 2016, despite pledging to help Australia transition to a low carbon economy.
3 Mar 17 - Australian Prime minister Malcolm Turnbull has is own solar array and battery storage installation at his own home, and apparently likes to admire how much power is being produced, how much is being...
3 Mar 17 - Scientists say Sydney is unprepared for the knock-on effects of a significant increase in average summer temperatures.
1 Mar 17 - Australia's greenhouse gas pollution jumped in 2015-16 as coal use continued to rise after the scrapping of the carbon price, making it harder to meet its emissions targets.
28 Feb 17 - Since 1880, the average global temperature has increased by 0.8deg with large changes in rainfall redistribution. With these changing conditions upon us, and set to continue, gardeners will have to...
---