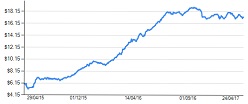 Wednesday - Spot NZUs opened today at $17.10 bid and $17.25 offered, after last fixing at $17.20.

Wednesday - The network of rivers, streams, ponds and lakes across Antarctica has been mapped for the first time, and the extent of water flow is phenomenal.

Wednesday - Former New York mayor Michael Bloomberg has urged world leaders not to follow Donald Trump's lead on climate change, and declared his own intention to stave off the "tragedy" that would be the collapse of the Paris climate deal.

Wednesday - Friday was Britain's first working day without coal power since the Industrial Revolution.

Wednesday - Ministers from countries on the front line of climate change have urged rich nations to stop pouring money into the coal, oil and gas industries.

Wednesday - Three wind turbines in Scotland are generating electricity for the national grid and helping to raise funds to build affordable homes in rural communities.

Wednesday - After a 170-year delay, the discovery of a strange, metallic-looking rock found in the Ural Mountains in Russia in 1839 has ignited a global technology race for a cheaper, more efficient solar cell.
---
Wednesday - A farm in the Netherlands will serve one of Europe's biggest supermarket chains with lettuce grown using LED horticultural lighting.
Friday - The UK government's decision to sell the Green Investment Bank to Australian bank Macquarie for £2.3bn has been attacked by critics including the Liberal Democrats and Greenpeace as "politically...
Friday - Every year, more than 60 per cent of the world's seaborne cargoes and 30 per cent of the world's shipping containers pass through China's ports, creating an air pollution problem Beijing is now...
Friday - Trump administration officials have postponed a meeting scheduled for this week to discuss the US government's position on the Paris climate change agreement.
Friday - Ask someone in Flint, Michigan, or São Paolo, Brazil — the list of cities rocked by water disasters seems to grow each day — how much safe, clean water is worth.
Friday - Toyota has again won the World Green Car-of-the-Year Award.
Friday - The fastest-growing occupation in the United States — by a long shot, according to the Bureau of Labor Statistics — is wind turbine technician.
Friday - New York's thousands of food carts are generating carbon credits.
20 Apr 17 - Harvard scientists later this year will redirect the sun's rays back into space as part of a larger research programme aimed at understanding the benefits and risks of geoengineering the planet to...
20 Apr 17 - Despite opposition from environmental groups and President Obama's 2016 ban on drilling in federal Arctic waters, exploration in Alaska has revealed massive new volumes of oil.
20 Apr 17 - A committee of Brazil's Congress has approved proposals to roll back protections on 1.1 million hectares of forest and national park.
20 Apr 17 - From the ochre-coloured Australian outback to the windswept Scottish coast, cricket is defined almost entirely by the weather conditions. If they change, so does the essence of the game.
---