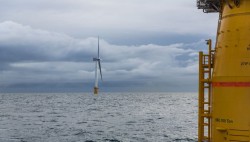 Friday - Despite covid-19's grim effects on many industries, the orders for the global offshore wind industry have increased dramatically in the first half of 2020, totalling $US35 billion, up 319 per cent on last year.

Thursday - The humble house brick has been turned into a battery that can store electricity, raising the possibility that buildings could one day become literal powerhouses

Monday - South Africa is tightening environmental demands for new coal-fired power plants, after a 'landmark' ruling that licences for water use should consider the risks of climate change.

Monday - As the black stuff burnt in the United Kingdom plummets to a level not seen since the early steam age, The Guardian traces its long, deep history and the problems left in its wake.

Monday - Narendra Modi's dream of a "self-reliant India" comes at a terrible price for its indigenous population

7 Aug 20 - BP is taking its business in a new direction, announcing it will slash its oil and gas production by 40 per cent and increase its annual investment in low-carbon technology to $5 billion, a 10-fold increase over its current level.

7 Aug 20 - The use of coal as an energy source is steadily declining in the US and Europe, but coal mining and the construction of coal-fired power plants continues across South and Southeast Asia.
---
7 Aug 20 - Once upon a time, hydrogen was supposed to be the future of energy. The possibilities for hydrogen power seemed endless: it could fuel our cars, heat our homes, and even power our airplanes. But 175...
5 Aug 20 - Fonterra favours wood over electricity for reducing emissions from its South Island plants.
4 Aug 20 - Pumped-hydro, a "blind" focus on renewable electricity instead of cutting emissions from all energy systems, and the closure of the Tiwai Point aluminium smelter are all on the agenda at this year's...
4 Aug 20 - The world's leading oil and gas giants are revealing the scale of the damage inflicted on the industry by the coronavirus pandemic, with top American companies reporting billions in losses while some...
4 Aug 20 - The size of the global coal power fleet fell for the first time on record over the first six months of the year, with more generation capacity shutting than starting operation.
27 Jul 20 - Paying industry not to use electricity during peak demand should be considered as an alternative to a multi-billion-dollar new hydro scheme, an energy expert says.
22 Jul 20 - With renewable energy now the cheapest way of mass-producing electricity, the race is on to find the best way to conserve the surplus for use at peak times, and also to use the stored electricity to...
21 Jul 20 - The massive Lake Kivu stores huge amounts of methane gas, which Rwanda is extracting to produce electricity.
14 Jul 20 - The United States' Environmental Protection Agency is expected to propose a new rule declaring burning biomass to be carbon neutral, as industry looks to expand its domestic markets.
13 Jul 20 - The Green Party wants coal-fired industrial boilers outlawed within five years.
13 Jul 20 - AN ESTIMATED $US1.6tn has been wiped from the global oil and gas industry this year, but the danger for Australia's LNG sector remains little acknowledged.
6 Jul 20 - Prime Minister Jacinda Ardern is hinting at a major announcement on renewable energy.
---