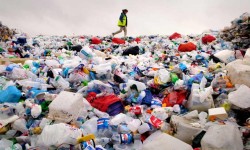 Thursday - A super-enzyme that degrades plastic bottles six times faster than before has been created by scientists and could be used for recycling within a year or two.

9 Sep 20 - Live fast, die young is a truism often applied to rock stars but could just as easily describe trees, according to new research. Trees that grow rapidly have a shorter lifespan, which could spell bad news for tackling the climate crisis.

4 Sep 20 - This winter was the warmest on record in New Zealand and is in line with scientific predictions about climate change, scientists say.

3 Sep 20 - From one end of the Americas to the other, climate heating is subjecting the plant world to radical change, with cold-resistant species increasingly yielding place to those that welcome the rising warmth.

2 Sep 20 - The amount of carbon dioxide emitted by Arctic wildfires this year is already 35 per cent higher than the figure for the whole of 2019.

27 Aug 20 - Humankind has already begun to reshape the biggest available living space on the planet and to leave its mark in the changing oceans.

26 Aug 20 - Growing up in a greener urban environment boosts children's intelligence and lowers levels of difficult behaviour, a study has found.
---
17 Aug 20 - Earth Overshoot Day – the day each year on which human activity has used up all the resources the planet generates in a year and is moving into debt – has been pushed back by the covid-19 pandemic...
14 Aug 20 - Although overhunting led to the demise of some prehistoric megafauna after the last ice age, a new study found that the extinction of the woolly rhinoceros may have been caused by climate change.
14 Aug 20 - As the new coronavirus continues to turn the world upside down, crashing economies and overextending health care systems, epidemiologists and infectious disease experts are increasingly focusing on...
13 Aug 20 - The past decade was the hottest ever recorded globally, with 2019 either the second or third warmest year on record, as the climate crisis accelerated temperatures upwards worldwide, scientists have...
13 Aug 20 - PEOPLE who love eating cod might have to change their preferences soon - according to new research published in the Journal of Applied Ecology, global warming may cause a decline in cod populations.
11 Aug 20 - A trio of US researchers has grim news for people worried about climate science's worst case outcome. Forget about the other options. The worst case is already happening.
7 Aug 20 - The human destruction of natural ecosystems increases the numbers of rats, bats and other animals that harbour diseases that can lead to pandemics such as Covid-19, a comprehensive analysis has found
6 Aug 20 - Satellite observations have found a raft of new emperor penguin breeding sites in the Antarctic - welcome news as the species faces increasing pressure from climate change.
5 Aug 20 - Are young trees or old forests more important for removing carbon dioxide from the atmosphere and storing it?
4 Aug 20 - THE COLOUR of the new Scott Base may not be decided, but one thing is clear – the building will be green.
31 Jul 20 - Microbes buried beneath the sea floor for more than 100 million years are still alive, a new study reveals.
30 Jul 20 - The biggest science experiment on Earth could avert climate change. But is there still time for nuclear fusion to work?
---