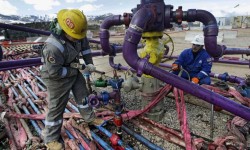 Friday - In the first significant check on the Trump administration's "energy-first" agenda, a US judge has temporarily halted hundreds of drilling projects for failing to take climate change into account.

Friday - About 70 per cent of fresh produce sold in the US has pesticide residues on it even after it is washed, according to a health advocacy group.

20 Mar 19 - For the first time in years, a broad spectrum of US climate advocates is going on the offensive.

19 Mar 19 - New York City Mayor Bill de Blasio wants to protect Manhattan from climate change by expanding the island's southern shore to keep rising seas at bay.

13 Mar 19 - The Trump administration's latest budget proposal would radically reduce new spending on federal programs for advancing clean energy.

11 Mar 19 - Across the US midwest, the rise of factory farming is destroying rural communities. And the massive corporations behind this devastation are now eyeing a post-Brexit UK market.

7 Mar 19 - The Trump administration's efforts to undo rules aimed at reducing greenhouse gases would lead to a rise in annual emissions and to thousands more American deaths, says a new report.
---
7 Mar 19 - Former US coal industry lobbyist Andrew Wheeler is taking over the reigns as the new administrator of the Environmental Protection Agency.
5 Mar 19 - For the first time, US lawmakers face competing approaches to reviving climate action. And despite hostility from the White House, each approach has significant support and the potential to shape the...
4 Mar 19 - What a splendid irony it would be if the enduring legacy of Donald Trump's presidency was the Green New Deal – a radical, government-directed plan to transition the US to a socially just society with...
1 Mar 19 - Rising seas have eroded coastal property values from Maine to Mississippi by billions of dollars as buyers pay less for homes in neighborhoods where high-tide flooding is creeping in.
27 Feb 19 - Thousands of workers are assembling an ethane cracker plant in the Ohio River Valley - conspicuous symbol of a petrochemical and plastics future looming across the Appalachian region.
22 Feb 19 - Climate change means a big shift for city dwellers worldwide. Americans can look ahead to very different cities as the US climate heads south.
20 Feb 19 - People tend to respond to immediate threats and financial consequences – and Florida's coastal real estate might be on the cusp of delivering that harsh wake-up call.
18 Feb 19 - US President Donald Trump (https://inhabitat.com/tag/trump) is moving forward with the construction of his Mexican border wall, even if it means sidestepping important environmental laws.
14 Feb 19 - The decision by US Senate majority leader Mitch McConnell (R-Ky) to bring up the Green New Deal for a Senate vote is prompting a rush to define the terms of progressive Democrats' ambitious proposal...
8 Feb 19 - New US congresswoman Alexandria Ocasio-Cortez is releasing a broad outline of a vision for the Green New Deal, a plan to battle economic and racial injustice while also fighting climate change.
7 Feb 19 - Top scientists have condemned US President Donald Trump's State of the Union address and say future presidents must confront climate change as an urgent priority.
1 Feb 19 - The polar vortex has broken into 'two swirling blobs of cold air', bringing the most frigid conditions in decades to the United States midwest.
---