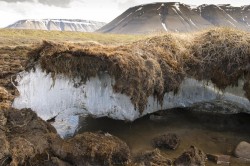 17 Jun 19 - Permafrost has begun thawing in the Canadian Arctic more than 70 years early because of climate change, according to new research.

6 Jun 19 - The bodies started washing ashore on St Paul Island, Alaska, in October 2016. One after another, the small carcasses of seabirds - mostly puffins - landed on the beach in extraordinary numbers.

6 May 19 - Part of the Ross Ice Shelf, the world's largest, is melting 10 times faster than the rest, shedding light on how it might respond to climate change.

3 May 19 - the Arctic is warming fast, and frozen soils are starting to thaw, often for the first time in thousands of years.

29 Apr 19 - Antarctica's charismatic emperor penguins have abandoned one of their biggest colonies after breeding pairs there failed to raise almost any new chicks in three years.

24 Apr 19 - US scientists have identified yet another hazard linked to the thawing permafrost - laughing gas.

16 Apr 19 - Warm, dry winds in Antarctica can cause major melt as they sweep across the ice, even during frigid winter months.
---
10 Apr 19 - Global warming is transforming the Arctic, and the changes have rippled so widely that the entire biophysical system is shifting toward an "unprecedented state," scientists say.
8 Apr 19 - Scramble across exposed rocks in the middle of Antarctica and it's possible to find the mummified twigs of shrubs that grew on the continent millions of years ago.
20 Mar 19 - New research by the UN has found that a temperature rise of up to 3.5deg in the Arctic is now inevitable.
14 Mar 19 - Sharp and potentially devastating temperature rises of 3deg to 5deg in the Arctic are now inevitable even if the world succeeds in cutting greenhouse gas emissions in line with the Paris agreement,...
1 Mar 19 - An iceberg of 660 square miles is set to break away from an Antarctic ice shelf as a result of a rapidly spreading rift that is being monitored by Nasa.
19 Feb 19 - Scientists are setting out to explore an Antarctic marine realm that was hidden from the Sun for more than 100,000 years.
22 Jan 19 - Sea-ice cover in Antarctica shrank rapidly to a record low in late 2016 and has remained well below average. But what's behind this dramatic melting and low ice cover since?
7 Dec 18 - Melting on Greenland's ice sheet has gone into overdrive, with meltwater runoff increasing 50 per cent since the start of the industrial era and continuing to accelerate, new research shows.
26 Nov 18 - Antarctic ice records pre-industrial levels of a chemical that scrubs the atmosphere of greenhouses gases.
21 Nov 18 - Cold meltwater running off Antarctica's ice sheets and into the ocean could dampen the pace of global temperature rise, a new study suggests.
19 Nov 18 - The Antarctic Circumpolar Current is the strongest ocean current on our planet and is vital for Earth's health. It is also changing as the climate warms.
13 Nov 18 - Climate minister James Shaw is heading to Antarctica as scientists warn we already might have triggered tipping points leading to irreversible melting of the polar ice sheets.
---