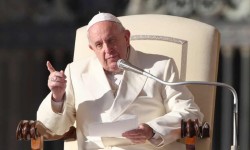 Friday - Pope Francis has called on COP 25 leaders meeting in Madrid to show political will to safeguard healthy planet.

Friday - US president Donald Trump has described climate change as important to him, saying clean air and clean water were top of his environmental agenda.

Friday - Scientists and conservation professionals predict mosquito-killing fungi and a kelp crisis could be among the trends affecting living things next year.

Friday - In many countries men are often migrating further to find work, leaving the entire burden of maintaining the family on women.

Friday - Iceland Prime Minister Katrin Jakobsdottir has urged governments to adopt green and family-friendly priorities, instead of just focusing on economic growth figures.

Thursday - Climate models have accurately predicted global heating for the past 50 years, a study has found.

Thursday - Voids left as glaciers vanish could be used to store spring snowmelt and rainfall to save the valleys below from summer droughts.
---
Wednesday - The past decade is almost certain to be the hottest on record, weather experts have warned, painting a bleak picture of vanishing sea ice, devastating heatwaves and encroaching seas.
Wednesday - FORMER US Secretary of State John Kerry has declared World War Zero by forming a bipartisan coalition of Hollywood stars, world leaders and military brass to push for public action on climate change.
Wednesday - Seeds from 400 wild relatives of food crops such as bananas, rice and aubergines have been collected to save their valuable genetic diversity before it is lost.
Wednesday - It's no secret that scientists often struggle to explain their research in the most approachable way.
Tuesday - The US will take action on greenhouse gases and engage with other countries on the climate emergency despite Donald Trump, a Congress delegation has told the UN climate conference in Madrid.
Tuesday - It has proven the hardest part of the Paris Agreement to create rules for, with warnings a weak decision could undermine the accord. Now it will dominate UN talks in Madrid.
Tuesday - In the near future, global warming is expected to create millions of climate refugees, and individuals and organisations are already searching for ways to help them.
Tuesday - Construction has begun on a pioneering hydrogen production facility in Adelaide, which will play a major role in South Australia's bid to become a global leader in certified green hydrogen.
Tuesday - Babies could be born up to two weeks' earlier as the climate warms.
Monday - The Chilean and Spanish governments hope to use UN climate talks, which begin in Madrid today, to assemble an alliance of countries that will pledge to curtail carbon emissions and pile pressure on...
Monday - Black carbon from Amazon rainforest fires is settling on Andes glaciers and making them melt faster, according to new research.
Monday - Brazil president Jair Bolsonaro has accused actor Leonardo DiCaprio of bankrolling the deliberate incineration of the Amazon rainforest.
---