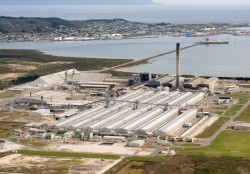 Tuesday - The owner of New Zealand's only aluminium smelter says the country could have a bright future producing low-emissions aluminium for a carbon-constrained world.

Tuesday - Food giant Foodstuffs is to get more than a million dollars of public money as part of a drive towards low-emissions vehicles.

11 Dec 18 - BP, Chevron and ExxonMobil face a shareholder challenge to set carbon targets in line with the Paris Agreement, as a green group seeks to repeat its success in pressuring Shell to set environmental benchmarks.
29 Nov 18 - The process to issue new exploration permits in the last part of the country in which they are allowed is under way.

22 Nov 18 - Growing enough greenery to provide cleaner fuel and slow climate change will need a biofuel land grab: a 10 to 30-fold rise in land devoted to green crops.

20 Nov 18 - Waste fish parts will be used to power ships in a new initiative to use green energy for polluting cruise liners.

16 Nov 18 - New Zealand researchers have created a new plant-based electrolyte that could be the key to making safer and more environmentally friendly batteries.
---
14 Nov 18 - The Energy Efficiency and Conservation Authority is seeking feedback on its proposed $14 million energy levy-funded activities for next year.
8 Nov 18 - New oil and gas exploration is now banned from New Zealand's waters and from most of its land.
8 Nov 18 - Large-scale hydropower dams are unsustainable in the developing world, according toi new research.
30 Oct 18 - If energy storage were available at sufficiently low cost and high performance, renewable energy would rapidly displace all other generation forms.
30 Oct 18 - A changing energy system is posing "critical questions" for many of the world's largest oil and gas producing countries, the International Energy Agency says.
29 Oct 18 - Hydrogen power and renewable energy offer hope to islanders and others in remote communities who now have to rely on fossil fuels.
25 Oct 18 - When high winds meet tall sails in the right place, something's got to give. Offshore wind farms might lead to weakened hurricanes.
24 Oct 18 - New Zealand and Japan are working together to transition away from a reliance on fossil fuels with the signing of an agreement on hydrogen, says energy minister Megan Woods.
24 Oct 18 - There's nothing novel about vehicles using alternatives to the internal combustion engine, but solar and battery-powered boats are rarely in the conversation.
17 Oct 18 - Five of the country's biggest users of natural gas want the Government's ban on exploration for new reserves put on hold while a "detailed" assessment of the role of gas is carried out.
11 Oct 18 - "Modern" bioenergy will lead the global expansion of renewable energy up to 2023, the International Energy Agency says in its latest forecast.
9 Oct 18 - Ukraine has unveiled a solar plant in Chernobyl, just across from where a power station, now encased in a giant sarcophagus, caused the world's worst nuclear disaster three decades ago.
---