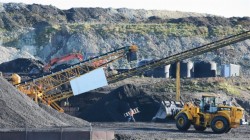 Monday - The Ministry for the Environment has given the Government no advice on the climate implications of developing 13 new coal mines.

Monday - Climate change wasn't on the lips of New Zealand's political leaders last week, despite serious flooding in Canterbury and Otago and financial warnings from the world's first professor of the economics of disasters.

Friday - Threats from climate change-induced sea-level rise and storms are not reflected in the market value of coastal New Zealand property, putting many people at risk of financial disaster.

Thursday - Planning to cut New Zealand's greenhouse gas emissions in line with the country's Paris Agreement commitments has been delayed because of the Ministry for the Environment's heavy workload, confidential papers show.

Wednesday - This year's bill for climate-related disasters in New Zealand has climbed to $174.7 million.

18 Jul 17 - Officials will put a plan to cut New Zealand's appalling transport emissions to the Government before the end of the year.

17 Jul 17 - A billion-dollar Green Infrastructure Fund and New Zealand at net-zero emissions by 2050 will be priorities for the Green Party in government.
---
17 Jul 17 - Summer in Auckland could, by the end of the century, be as hot as summer in Yokohama is now, a new report says.
17 Jul 17 - It's runs on the board this week for two leaders in The Count, our weekly tally of public statements about climate change by party leaders in the lead-up to the general election.
14 Jul 17 - Using wood instead of coal to provide industrial heat would cut New Zealand's greenhouse gas emissions by 460,000 tonnes and save more than $11 million a year in carbon credits, a new report says.
13 Jul 17 - The pan-political Globe climate group says cutting New Zealand's greenhouse gas emissions to net-zero by 2050 is worth serious discussion.
12 Jul 17 - The Government has been looking at approving new coal mines by creating special economic zones bypassing usual planning rules, Forest & Bird says.
11 Jul 17 - New Zealanders are buying electric vehicles in "record" numbers, but they are not making a dent in the country's greenhouse gas emissions.
11 Jul 17 - Young Green Party supporters are joining young National and Labour in supporting the Zero Carbon Act.
10 Jul 17 - Climate-related disasters have cost New Zealand more than $150 million this year.
10 Jul 17 - Climate change policy is not a priority for the Employers and Manufacturers' Association in this election.
10 Jul 17 - The public statements of world leaders might have been focused on climate change over the past week, but that doesn't mean it has been on the agenda for New Zealand's political leaders.
7 Jul 17 - By publisher ADELIA HALLETT | Two political actions this week give us some hope that New Zealand might one day get the leadership it needs to survive and prosper in a carbon-constrained world.
6 Jul 17 - A commitment by rich nations to the Paris Agreement and an end to fossil-fuel development were the two major issues to come out of a pan-Pacific climate meeting in Fiji this week.
---