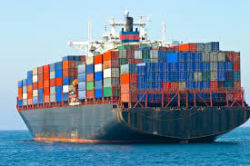 Monday - The shipping industry is concerned that compared with traditional fuels, greener alternatives have a greater potential to cause major accidents.

Monday - Elon Musk might need to tap capital markets for more than $10 billion by 2020 to fund Teslaís automaking operations, new products and an expected expansion into China,

Monday - Alaska, a major oil and gas producer, is crafting a plan to address climate change.

Monday - The Earth is not warming. The White Cliffs of Dover are tumbling into the sea and causing sea levels to rise. Global warming is helping grow the Antarctic ice sheet. Those are some of the skeptical assertions echoed by Republicans in the US House of Representatives last week.

Monday - Point Nemo in the Pacific is so far flung that the nearest humans are often those aboard the International Space Station. But even that hasnít saved it from the scourge of microplastics.
Friday - Scientists have detected a sharp and mysterious rise in emissions of a key ozone-destroying chemical centred somewhere in east Asia.

Friday - The Paris climate agreement will create 24 million jobs by 2030, according to a report released by the International Labor Organisation
---
Friday - Scientists voice new concerns about water shortages as data reveals swathes of the globe are drying out.
Friday - India has released a draft policy for setting up hybrid wind-solar plants where both windmills and panels are put up on the same piece of land.
Friday - London is considering introducing car-free days in an attempt to tackle the cityís air pollution crisis that experts say is responsible for thousands of early deaths each year.
Thursday - Swedish car company Volvo has announced its intention to stop making diesel cars.
Thursday - As climate change warms the Earth, one significant concern is the cooling crisis, the quest for energy-hungry artificial ways to keep ourselves cool.
Thursday - The UK has been told there's no need to build large gas-fired power stations to replace the coal plants that the government has pledged to switch off by 2025.
Thursday - A bumper year for renewable energy didnít stop Europe from increasing its emissions.
Thursday - Geneticists from Harvard think that reintroducing mammoth-like creatures to Arctic tundra environments could help to stop the release of greenhouse gases from the ground.
Thursday - Scientists, think-tanks, NGOs, and militaries agree that climate change threatens human safety and well-being. Yet the organisation charged with global security has remained relatively silent.
16 May 18 - Australian businesses are jumping on board the renewables boom with almost half of the nation's major companies making the switch to clean, affordable and reliable renewable energy.
16 May 18 - As climate talks stall, itís clear the UN process is no longer the major driving force of the climate transition. But does that matter?
16 May 18 - Investors managing more than $2.5 trillion have warned oil firms and banks to shun moves by US president Donald Trump to open an Arctic national wildlife refuge to drilling.
---