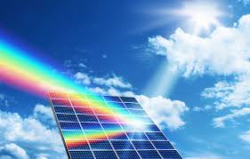 Today 11:00am - Global renewable energy capacity increased by 161GW last year, setting a new deployment record for the sector.

Today 11:00am - Mass migration of species to cooler climes has profound implications for society, pushing disease-carrying insects, crop pests and crucial pollinators into new areas.

Today 11:00am - Australia's giant Hazelwood brown coal generator shut down the last of its eight units at 4pm yesterday, the latest and the most powerful symbol of the vast and rapid change in the nation's energy system.

Today 11:00am - Only three European countries are on course to achieve the Paris Agreement targets, according to research which ranks the UK in fifth position on its progress towards the landmark climate treaty.

Today 11:00am - Far below the Dead Sea, between Israel, Jordan and Palestinian territory, researchers have found evidence of a drought that has no precedent in human experience.

Today 11:00am - Western consumers who buy cheap imported toys, clothes and mobile phones are indirectly contributing to tens of thousands of pollution-related deaths in the countries where the goods are produced.

Today 11:00am - India's oil majors are eyeing up the lithium-ion battery market in preparation for an electric-vehicle boom.
---
Thursday - The European Union has led criticism of Donald Trump's effort to unravel Barack Obama's measures to combat climate change, suggesting that Europe will now take the lead in global efforts.
Thursday - Sydney has a plan to be carbon-neutral by 2050.
Thursday - Westinghouse, once synonymous with America's industrial might, wagered its future on nuclear power ... and lost.
Thursday - European Union countries exploited loopholes in United Nations forestry rules to pocket carbon credits worth €600 million and the equivalent of global-warming emissions from 114 million cars.
Thursday - Despite knowing, approximately, where cyclones tend to occur, we've never thought about adjusting our cities to their effects.
Thursday - Climate scientists puzzled by the traffic of carbon between soil and air might have to think more deeply about the role played by soil microbes − the planet's smallest inhabitants.
Thursday - Climate change is one of the greatest threats facing Australia's wildlife, plants and ecosystems, a point driven home by two consecutive years of mass coral bleaching on the Great Barrier Reef.
Thursday - Better infrastructure for transporting people by bike is great. But cycle freight could free up roads and transform cities and towns, too.
Wednesday - President Trump has launched an all-out assault on Barack Obama's climate change legacy with a sweeping executive order that undermines America's commitment to the Paris agreement.
Wednesday - The development and evolution of the chemical industry is directly responsible for many of the technological advancements that have emerged since the late 19th century.
Wednesday - The ability to keep things cold is a pillar of modern society – demand is booming worldwide to deliver air conditioning, data centre cooling and transport refrigeration, particularly in emerging...
Wednesday - Erosion, rising seas, ferocious storms and other coastal perils have prompted the resettlement of more than one million people worldwide.
---