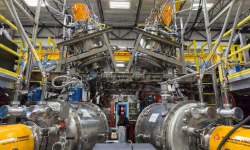 Thursday - Google and a leading US fusion company have developed a new computer algorithm that significantly speeds up progress toward clean, limitless energy.

Tuesday - Climate change campaigns that focus on correcting public beliefs about scientific consensus are likely to backfire and undermine policy efforts, according to an expert commentary.

18 Jul 17 - Humanity's grand experiment in the atmosphere continues, and a new report documents just how far it has gone.
17 Jul 17 - Summer in Auckland could, by the end of the century, be as hot as summer in Yokohama is now, a new report says.

17 Jul 17 - A building's primary purpose may be to keep the weather out, but most do such an effective job of this that they also inadvertently deprive us of contact with two key requirements for our well-being and effectiveness: nature and change.

14 Jul 17 - All around the world, scientists are building repositories of everything from seeds to ice to mammal milk — racing to preserve a natural order that is fast disappearing.

13 Jul 17 - Climate scientists will be able to more accurately study Earth's temperature changes, thanks to a global database.
---
13 Jul 17 - A "biological annihilation" of wildlife in recent decades means a sixth mass extinction in Earth's history is under way and is more severe than previously feared.
12 Jul 17 - When meltwater breached the global seed bank near Svalbard in May, after unusually warm weather, it served as a stark reminder of the need to safeguard humanity's future in the face of increasing...
11 Jul 17 - Climate change could cast a dark shadow over the bees of Europe, with global warming posing sex problems for the sea turtles of the Atlantic.
10 Jul 17 - Beneath the waves, swelling levels of carbon dioxide could be boosting some species to ecological dominance while dooming others.
7 Jul 17 - Hopes that the world's huge carbon emissions might not drive temperatures up to dangerous levels have been dashed by new research.
7 Jul 17 - One of the key questions about climate change is the strength of the greenhouse effect.
7 Jul 17 - Summers are already warmer than they used to be, and could get dramatically hotter by century's end - a problem that will be felt most acutely in cities.
4 Jul 17 - Some public areas on cruise ships could be more polluted than the world's worst-affected cities, a new investigation reveals.
3 Jul 17 - HALF-A-DEGREE of warming made a big difference to the type of weather Earth experienced in the past, scientists say.
30 Jun 17 - New Zealand's Motu Research has been named one of the 10 best climate policy think-tanks in the world.
30 Jun 17 - Destroying the world's mangroves could mean an extra seven million metric tonnes of carbon dioxide emissions per year, scientists say.
30 Jun 17 - Boaty McBoatface has gathered 'unprecedented data' from its first expedition to Antarctica, scientists say.
---