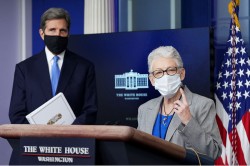 Wednesday - When President Joe Biden introduced his $2 trillion infrastructure plan, he mentioned "climate" only once and jobs 28 times.
Wednesday - Cities in the Netherlands want to make their air cleaner by banning fossil fuel delivery vehicles from urban areas from 2025.
Wednesday - Californians alone use more power playing games and heating their pools than entire countries in Africa
Wednesday - With income from sequestering carbon in its forests, California's Yurok tribe has supported youth programming, housing, road improvement, and businesses development.

Wednesday - Two former prime ministers, Kevin Rudd and Malcolm Turnbull, write the world shouldn't give up hope on Australia just yet

Wednesday - MEDIA RELEASE - In meeting virtually with President Joe Biden and 39 other world leaders, PM Jacinda Ardern should press home the need to confront the current global economic model based on limitless growth. 'It has failed us,' says Wise Response chair, Prof. Liz Slooten.

Tuesday - Chinese President Xi Jinping slammed the European Union's plan for a carbon border levy in a call with the leaders of France and Germany on Friday (16 April), according to state media.
---
Tuesday - As the world warms, monsoon changes are set to cause havoc across a huge and densely populated swathe of the planet. The great South Asian summer monsoon will become both stronger and less reliable.
Tuesday - Joe Biden faces a key test of his commitment to climate action this week, when he sets out his core plans for tackling the climate crisis and calls on all of the world's major economies to join him...
Tuesday - Japan's Toyota Motor signalled a shift in its climate change stance on Monday (Apr 19), saying it would review its lobbying and be more transparent on what steps it is taking as it faces increased...
Tuesday - A 30-year-long project by some in the oil industry, who have spent millions of dollars manipulating public opinion and perceptions of climate change, is revealed in a new Al Jazeera documentary by...
Monday - The BBC's framing of upcoming talks between the US and China as a contest between human rights concerns and climate action came in for a blistering attack from Jeffrey Sachs, a former director of the...
Monday - Australia is like a firefighter holding a hose with one hand and a box of matches in another when it comes to climate change. And according to two Aussie academic, it's only going to get worse.
Monday - From wines in Canada to mushrooms in the Czech Republic, some foods will fare better than others on a hot planet.
Monday - Sustainable energy services provider C-Quest Capital has signed a deal with Shell Eastern Trading to fund the generation of more than 60 million carbon credits using clean cookstoves in Africa.
Monday - Government support and public money investment into coal is the only factor keeping India away from shrinking its coal capacity. The latest data shows that private sector has taken a step back and...
Friday - Despite the economic challenges posed by Covid-19, the past year was marked by a growing number of pledges from Asian countries to reach carbon neutrality.
Friday - Federal Reserve Chair Jerome Powell on Wednesday defended the Fed's increasing scrutiny of the threat that climate change could pose to the health of the United States' banks.
Friday - Climate change appears to be high on the agenda for tech billionaires like Elon Musk, Jeff Bezos and Bill Gates but some are questioning whether they're focusing their efforts on the right areas.
---