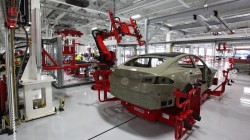 Today 11:00am - India's oil majors are eyeing up the lithium-ion battery market in preparation for an electric-vehicle boom.

Thursday - Better infrastructure for transporting people by bike is great. But cycle freight could free up roads and transform cities and towns, too.

Monday - Small tweaks to flight paths could reduce the effects that aircraft have on climate by as much as 10 per cent, a new study shows.

24 Mar 17 - Carbon fibre is increasingly celebrated as a wonder material for the clean economy.

24 Mar 17 - London's iconic black cabs are going green with the opening of a £300 million electric vehicle manufacturing plant.
17 Mar 17 - Air New Zealand and Virgin Australia say they now have a shortlist of companies to supply them with biofuels.

17 Mar 17 - Britain and Europe's largest airport is not the most obvious target for an eco-friendly rebranding. Yet Heathrow Airport recently unveiled a new sustainability strategy.
---
16 Mar 17 - Mixing biofuels into aviation gas cuts chemtrails, new research shows.
15 Mar 17 - The second round of Government funding for projects to get more electric vehicles on New Zealand's roads opens today.
15 Mar 17 - An ocean-going tanker is to be fitted with a type of "spinning sail" invented almost a century ago in a step that could lead to more environmentally friendly tankers worldwide.
13 Mar 17 - Scientists are developing a practical method to convert water and sunshine into fuel — a key step in someday powering cars with the sun.
10 Mar 17 - Not many of the 25 million people enjoying the sea breeze on a cruise ship this year are likely to think about the air pollutants being emitted from the vessel.
7 Mar 17 - The aviation industry is the first sector to introduce a global design standard on emissions.
6 Mar 17 - From today, electric vehicles are allowed in priority lanes on Auckland's roads – but only for two weeks.
6 Mar 17 - Beijing officials have hatched plans to replace all of the city's 70,000 gas-powered taxicabs with electric vehicles to try to improve the China capital's notorious pollution issues.
3 Mar 17 - Electrifying the entire North Island rail network would cost more than $4.5 billion, says KiwiRail.
3 Mar 17 - Tesla's revenue from China last year tripled to more than $1 billion, indicating better traction in the market Chief Executive Officer Elon Musk has predicted could eventually become the company's...
1 Mar 17 - When it comes to reducing carbon emissions, one of the biggest hurdles is the world's addiction to flying.
1 Mar 17 - Liquid hydrogen might be the solution to the thorny problem of sustainable air travel.
---