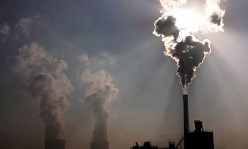 Today 10:00am - The amount of new coal power being built around the world fell by nearly two-thirds last year, prompting campaigners to claim the polluting fossil fuel is in freefall.

Today 10:00am - Local governments around Europe paid €7.6 billion to light public streets in 2015. But their bills could be cut down by up to 70 per cent if local governments are willing to shell out extra funds to install new lighting.

Today 10:00am - Humans are in the process of changing the planet in a way that hasn't happened in 2.6 million years.

Today 10:00am - Scientists in California who turned a patch of natural grassland into a laboratory have established a subtle link between flowering times and the mix of species in an ecosystem – indicating that global warming could change planetary biology and disrupt ecosystems in hitherto unsuspected ways.

Today 10:00am - Norway has some of the most ambitious emissions policies in the world, but is opening oil fields that cannot pay back in a safe climate future.

Today 10:00am - Princess Anne has strongly backed genetically modified crops, saying she would grow them on her own land and that GM livestock would be a "bonus".

Wednesday - More sustainable use of materials and energy would not only cover the cost of keeping global warming below 2deg, but also add an extra $2 trillion to the global economy by 2050, says the United Nations.
---
Wednesday - The record-breaking heat that made 2016 the hottest year recorded has continued into 2017, pushing the world into "truly uncharted territory", according to the World Meteorological Organisation.
Wednesday - Once peak oil is finally reached – whenever that is – demand will begin to drop thereafter, perhaps precipitously.
Wednesday - If anything, it's worse than expected: sweeping cutbacks to environmental programmes; an abandonment of efforts aimed at cleaning up air and water pollution around the US; and, most worrying for the...
Wednesday - Once upon a time, the Sahara was green. There were vast lakes. Hippos and giraffe lived there, and large human populations of fishers foraged for food alongside the lakeshores.
Wednesday - One of the UK's trickiest waste problems is being tackled by turning the undesirable into the combustible – tampons and incontinence pads are being converted into dry, burnable bales.
Tuesday - Carbon dioxide emissions from energy have not increased for three years in a row even as the global economy grew, the International Energy Agency says.
Tuesday - Australia's largest battery storage technology will be built in South Australia to warehouse renewable energy, providing more affordable and reliable electricity, along with jobs and investment.
Tuesday - Scientists' efforts to develop new crops able to resist climate change, droughts and other shocks have been boosted by the United States joining an international seeds treaty.
Tuesday - Kenya has announced a ban on the use, manufacture and import of all plastic bags which will come into force in six months.
Monday - In a region of Pakistan besieged by drought, and blessed with solar potential, China is funding the expansion of huge new coal projects.
Monday - Scientists have calculated that at least 30 per cent and perhaps one half of the decline in Arctic summer sea ice could be attributed to natural causes – changes of ocean and atmospheric circulation...
Monday - The Liberal New South Wales government, major energy users, manufacturers and businesses have urged the Finkel review of the electricity market to consider a price on carbon or a market mechanism.
---