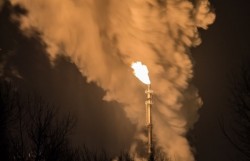 Today 5:00pm - ExxonMobil, the world's largest public oil producer, is planning to reduce its methane emissions by 15 per cent by 2020.

Today 5:00pm - Finding oneself improperly dressed for the weather can have fatal consequences – just ask a white-coated weasel.

Friday - Royal Dutch Shell has seen off the two most debated issues at its shareholder meeting this week - the boss's pay and responsibility in tackling climate change.

Thursday - Roughly one-third of the global protected area estate - a staggering six million square kilometres - is under intense human pressure, a new study reveals.

Thursday - Dry rivers can emit significant amounts of carbon dioxide when water starts to flow, new research shows.

Wednesday - An increasing number of reports are identifying limiting global warming to 1.5deg as critical for the future of humans and nature.

22 May 18 - Electronic devices need to be repaired - and upgraded - if we are to slow our production of e-waste.
---
22 May 18 - Climate change means warmer and earlier springs. And that may be of no help to those bird species that get the timing wrong.
18 May 18 - Scientists have detected a sharp and mysterious rise in emissions of a key ozone-destroying chemical centred somewhere in east Asia.
18 May 18 - The Paris climate agreement will create 24 million jobs by 2030, according to a report released by the International Labor Organisation
17 May 18 - Scientists, think-tanks, NGOs, and militaries agree that climate change threatens human safety and well-being. Yet the organisation charged with global security has remained relatively silent.
16 May 18 - As climate talks stall, it's clear the UN process is no longer the major driving force of the climate transition. But does that matter?
11 May 18 - Climate negotiators gathered in Bonn to negotiate the rules that will govern the Paris Agreement have gone back home with little to show after almost two weeks of negotiation.
11 May 18 - A more variable climate spells another injustice in a warming world, with the poorest people likely yet again to feel the heat most intensely.
10 May 18 - Concerns are growing over the huge impact on the environment, human health and animal welfare grow, so what future is there for the meat industry.
10 May 18 - Children are estimated to bear 88 per cent of the burden of disease related to climate change, according to pediatricians.
9 May 18 - Observers say Fiji's kava-fuelled story time at the Bonn climate talks on Sunday helped to break down barriers between government representatives and campaigners.
9 May 18 - Tourism accounted for 8 per cent of global greenhouse gas emissions from 2009 to 2013, new research finds, making the sector a bigger polluter than the construction industry.
8 May 18 - The concentration of carbon dioxide in the atmosphere has reached its highest level in at least 800,000 years, according to scientists.
---