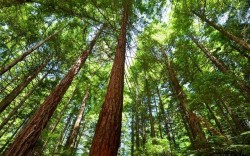 Today 11:00am - Forests can be a long-term store of carbon if they're managed correctly – but without them, New Zealand has no hope of reaching carbon neutrality by the middle of the century, a forestry expert says.

Today 11:00am - Banning every industry except agriculture from using forestry credits to offset greenhouse gas emissions would be a huge disruption to the economy, says Business NZ.

Today 11:00am - Parliamentary Commissioner for the Environment Simon Upton answers questions on yesterday's report recommending big changes to the way New Zealand deals with greenhouse gas emissions.

Tuesday - Sweeping changes to the Emissions Trading Scheme proposed by the Parliamentary Commissioner for the Environment, which would see forestry credits used only for offsetting emissions from farming and not from other industries, are unlikely to be picked up by the Government.

Tuesday - Agriculture should be brought into the Emissions Trading Scheme as soon as possible – and farmers be given the opportunity to make money from it, the Government has been told.

Friday - Treasury wants to retain the ability to use international carbon credits to meet New Zealand's 2050 emissions reduction target, confidential papers show.

18 Mar 19 - Storing carbon in new native forests could help to bring down New Zealand's greenhouse gas emissions and protect native species at the same time, researchers say.
---
15 Mar 19 - Finance minister Grant Robertson has just told thousands of striking school students that the Government is committed to bringing agriculture into the Emissions Trading Scheme.
15 Mar 19 - The Zero Carbon Bill will be in Parliament by June.
15 Mar 19 - The Interim Climate Change Committee will now report directly to climate minister James Shaw on whether the agricultural sector should be liable for emissions under the Emissions Trading Scheme.
14 Mar 19 - The Interim Climate Change Committee will make its recommendations next month on how New Zealand should treat greenhouse gases from agriculture.
14 Mar 19 - School students in more than 30 New Zealand towns and cities will take part in tomorrow's global School Strike 4 Climate.
12 Mar 19 - The Government will release details of its climate change policy timetable on Friday.
7 Mar 19 - Councils considering proposals under the Resource Management Act might soon have to take greenhouse gas emissions into account.
5 Mar 19 - A company given millions of dollars' worth of free carbon credits says the system giving it the units should not be stopped until at least 70 per cent of its competitors also face a carbon price.
4 Mar 19 - The Government's latest attempts to make the Emissions Trading Scheme attractive for forestry won't work if farmers don't have to pay for their emissions, say foresters.
1 Mar 19 - Midnight Oil lead singer Peter Garrett and rock-star economist Kate Raworth will be headlining at the Government's Just Transition Summit in Taranaki in May.
25 Feb 19 - A National government might give fewer free carbon credits to trade-exposed industrial emitters but is unlikely to force a large-scale reduction in biological emissions from agriculture, according to...
21 Feb 19 - Greater environmental taxes and strengthening of the Emissions Trading Scheme are on the way if the Government adopts recommendations from its Tax Working Group.
---