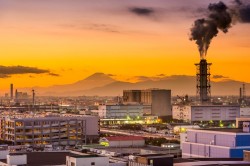 Friday - Reputational damage, financial vulnerability and a lack of access to capital are likely impacts on firms that fail to respond to the climate crisis this decade, experts surveyed for a new study say.

Thursday - Parts of the tourism industry are so ill-informed about what climate change could do to New Zealand that they think the sector could actually benefit from it, a new report says.

Thursday - JPMorgan Chase, one of the world's biggest lenders to fossil fuel projects, will curb loans to coal firms and bar the financing of oil and gas developments in the Arctic.

Tuesday - Taxpayer-funded carbon credits were worth $12.1 million last year to Tiwai Point aluminium smelter operator Pacific Aluminium.

7 Feb 20 - Tesla shares continue blockbuster surge, with more analysts and investors recognising the trillion dollar-plus potential of the Elon Musk electric car and energy company.

3 Feb 20 - CentrePort is going electric for moving freight around the Wellington port.

3 Feb 20 - Marlborough clean-tech company CarbonScape has been nominated in the Environmental Achievement of the Year category in the annual Tire Technology International Awards.
---
10 Dec 19 - Two strands of action are being taken by investors against the planet's biggest and most polluting companies to try to coerce them into complying with climate targets.
6 Dec 19 - Companies with high levels of greenhouse gas emissions are worth less than low-emitting companies, says financial analysis and advisory firm Forsyth Barr.
2 Dec 19 - Institutional investors will either stay away or demand higher returns in New Zealand and Australia if their governments don't produce credible, long-term climate investment strategies, a new report...
2 Dec 19 - New International Monetary Fund chief Kristalina Georgieva tells why global heating is as big a threat to economic stability as another financial crash.
25 Nov 19 - Supermarkets and electricity retailers are scoring the highest marks with consumers for sustainability, but none is doing well enough, a new study says.
8 Nov 19 - In the wake of two years of wildfires in California, Wall Street is incorporating a new risk metric when evaluating companies: climate resiliency.
5 Nov 19 - CarbonClick plans to be as much of a disrupter for carbon offsetting as Xero has been for accounting.
15 Oct 19 - Google has made "substantial" contributions to some of the most notorious climate deniers in Washington despite its insistence that it supports political action on the climate crisis.
10 Oct 19 - Bank of England governor Mark Carney has warned major corporations that they have two years to agree rules for reporting climate risks before global regulators devise their own and make them...
7 Oct 19 - The organisers of a high-powered business and climate change conference in Auckland this week say it is way past time for politicians to come together.
7 Oct 19 - Most of the world's 50 largest banks have not made sustainable finance commitments to respond to the risks of climate change and continue to finance fossil fuels, says a new report.
26 Sep 19 - More than four in five of the world's largest companies are not on track to meet the Paris climate targets for 2050, says a new study.
---