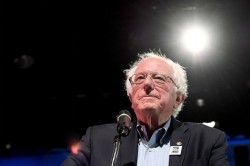 Friday - Democratic presidential candidate Bernie Sanders has unveiled a $16.3 trillion plan for a Green New Deal, giving shape to a massive programme to overhaul the nation's economy and eliminate fossil fuel use by mid-century.

Thursday - Clean energy jobs in California now outnumber jobs in the fossil fuel industry five to one, a new study has found.

Thursday - When the news is bad, punish the messenger, as in today's United States it's increasingly the case that politics tops science.

19 Aug 19 - US Environmental groups have appealed a court decision in their attempt to end the Environmental Protection Agency's policy of excluding certain scientists from serving on its advisory boards.

23 Jul 19 - Joe Biden, frontrunner for the Democratic nomination for US president, has one of the more ambitious rural climate-related goals ... but could his plan actually achieve net-zero emissions?

22 Jul 19 - Widespread increases in extreme heat due to climate change could bring unprecedented risks to the US in coming decades, a new study has warned.

11 Jul 19 - Alaska, part of which lies inside the Arctic Circle, is sweltering under a heatwave, with record temperatures recorded.
---
4 Jul 19 - The mayors of hundreds of US cities have called on Congress to pass legislation to put a price on carbon emissions.
3 Jul 19 - For a brief moment, the standoff in Oregon over climate change legislation seemed like an amusing bit of Wild West political theatre.
28 Jun 19 - The US in April generated more electricity from renewable sources than coal for the first time,, new federal government data has shown.
26 Jun 19 - More than 70 protesters have been arrested outside the New York Times building as they called for more effective media coverage of the dangers of climate change.
25 Jun 19 - The Trump administration has stopped promoting US government-funded research into how higher temperatures can damage crops and pose health risks.
24 Jun 19 - Scientists have identified the US military as one of the world's great emitters of greenhouse gases, an agency which buys as much fuel as Portugal or Peru and emits more carbon dioxide than all of...
21 Jun 19 - Defending against rising seas could cost US communities $416 billion in the next 20 years, according to a new report.
20 Jun 19 - New York politicians have reached a deal to create one of the most ambitious climate bills in the US, putting the progressive state on the front lines of fight over the environment.
20 Jun 19 - The Florida city of Deerfield has put 633 divers into the water in what it claims is the world's largest underwater clean-up.
11 Jun 19 - Former New York Mayor Michael Bloomberg has a new $500 million mission - to close every coal plant in the US by 2030.
10 Jun 19 - US President Donald Trump dismissed climate change as "a change in weather" just hours after holding talks on the issue with Prince Charles.
6 Jun 19 - Minnesota aims to offer financial support to homeowners who want to transform their yards into bee-friendly gardens.
---