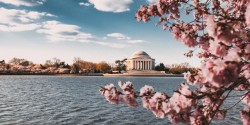 Friday - Climate change means a big shift for city dwellers worldwide. Americans can look ahead to very different cities as the US climate heads south.

Wednesday - People tend to respond to immediate threats and financial consequences – and Florida's coastal real estate might be on the cusp of delivering that harsh wake-up call.

18 Feb 19 - US President Donald Trump (https://inhabitat.com/tag/trump) is moving forward with the construction of his Mexican border wall, even if it means sidestepping important environmental laws.

14 Feb 19 - The decision by US Senate majority leader Mitch McConnell (R-Ky) to bring up the Green New Deal for a Senate vote is prompting a rush to define the terms of progressive Democrats' ambitious proposal to tackle climate change.

8 Feb 19 - New US congresswoman Alexandria Ocasio-Cortez is releasing a broad outline of a vision for the Green New Deal, a plan to battle economic and racial injustice while also fighting climate change.

7 Feb 19 - Top scientists have condemned US President Donald Trump's State of the Union address and say future presidents must confront climate change as an urgent priority.

1 Feb 19 - The polar vortex has broken into 'two swirling blobs of cold air', bringing the most frigid conditions in decades to the United States midwest.
---
1 Feb 19 - The US intelligence community has warned in its annual assessment of worldwide threats that climate change and other kinds of environmental degradation pose risks to global stability.
30 Jan 19 - Industrial farming encourages practices that degrade the soil and increase emissions, while leaving farmers more vulnerable to damage as the planet warms.
24 Jan 19 - Nearly half of Americans say people in the US are being harmed by global warming "right now" - the highest point ever in a decade-long national survey called Climate Change in the American Mind.
23 Jan 19 - A new Pentagon report identifies significant risks from climate change at scores of military bases and says the Defense Department is taking protective measures against the looming threat.
22 Jan 19 - Tesla is cutting its full-time staff headcount by about 7 per cent, as it tries to reduce the price of its cars and boost margins, CEO Elon Musk has announced
21 Dec 18 - Miami's poor are being pressured to leave their high-ground homes as rising sea levels threaten the city's wealthy coastal suburbs.
20 Dec 18 - The Californian Air Resources Board has revealed its plan to have an all-electric bus fleet in California by 2040.
14 Dec 18 - US scientists have found a new way to cut or offset 22% of the greenhouse gas emissions from American factory chimneys, car exhausts and power stations -- better land use.
12 Dec 18 - Outdoor clothing company Patagonia will be giving to the planet the $10 million it made as a result of President Trump's tax cuts.
10 Dec 18 - Ocean-front homes could be demolished along California's coastline under a groundbreaking proposal to preserve the state's made-for-movies beaches before they're destroyed by rising seawater.
10 Dec 18 - Among the tributes paid to former US president George H.W. Bush has been plenty of reflection on his war record – but less on how he handled himself during the early skirmishes of the climate battle.
5 Dec 18 - On a Pacific archipelago 2400 miles southwest of Hawaii, the United States' enormous military capability collides with the accelerating climate risk that threatens to erode it.
---