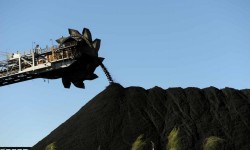 Friday - The Australian coal industry has begun lobbying the re-elected Morrison government to support hardline positions, including building new coal-fired power stations and weakening approvals processes for new mines.

Friday - The EU's global climate leadership is at stake as a new political cycle begins amid increasingly polarised public opinion.

Friday - More than 70 Church of Scotland delegates have formally lodged their frustration at the decision of its general assembly not to divest from fossil fuels.

Friday - Communities of zooplankton – microscopic drifting animals that underpin marine ecosystems – are migrating poleward in response to climate change, a study finds.

Friday - As cities increasingly feel the impacts of rising seas and temperatures, planners are rethinking the roles of urban parks.

Thursday - Researchers have come up with a new technique to clean the atmosphere of the second-most powerful greenhouse gas people produce - methane.

Thursday - Pacific leaders have urged Australian Prime Minister Scott Morrison to do more to fight the climate crisis.
---
Thursday - The language of climate emergency has exploded into public space in a spectacular way, with media and governments adopting new and stronger terms.
Thursday - Rubber is one of the world's most widely used materials, but irresponsible farming methods have led to deforestation and human rights abuses as the sector has grown.
Wednesday - Ice loss from Antarctica and Greenland could cause far more sea level rise than previously thought, says a new report.
Wednesday - Louisiana has issued a blueprint for coping with the impacts of a warming planet, including a human migration that has already begun.
Wednesday - BlackRock, which controls $6.5 trillion in assets, has been urged to use its influence on the planet's biggest polluters.
Wednesday - If earthworms had feathers, wings or fur, or eyes that looked mournful – or eyes at all – perhaps they would fare better in the public's affections.
21 May 19 - Last month was the second-hottest April since records began in 1891, rivaled only by April 2016.
21 May 19 - Single-use plastic is clogging oceans and landfills. The industry that makes it has waged a decades-long campaign to keep it on the market.
21 May 19 - By GAIA VINCE | A four-degree-warmer world is the stuff of nightmares and yet that's where we're heading in just decades.
21 May 19 - The topic of climate change features on television about as often as that of zombies, urine, or rhubarb.
21 May 19 - Glasgow has committed to being the UK's first net-zero city.
20 May 19 - Efforts to build offshore wind turbines to power up to sx million homes will create more than 10,000 jobs under Climate Jobs New York's plan.
---