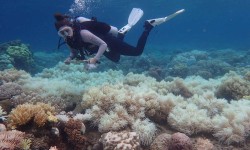 Wednesday - Greater emissions reductions and delivering on the Paris climate agreement are now "the only opportunity" to save coral reefs the world over from decline.

Monday - To small island nations where the land juts just above the rising seas, the US pulling out of the Paris global warming pact makes the future seem as fragile and built on hope as a sand castle.

21 Jun 17 - Much like tree rings, coral reefs can tell stories about how environmental conditions have changed over time.

22 May 17 - New Zealand is giving Fiji $1.3 million and the services of our top climate ambassador to help to chair international climate negotiations later this year.

18 May 17 - Well-meaning nations who find their Pacific aid projects don't work out might find the reason, in part, is the sidelining of God.

17 May 17 - Henderson Island, part of the Pitcairn group, is covered by 18 tonnes of plastic – the highest density of anthropogenic debris recorded anywhere in the world

10 May 17 - What will New Zealand do when 12,000 climate refugees from Tuvalu arrive on its doorstep?
---
10 May 17 - Conditions in the Pacific Ocean over the coming decades will determine how fast we get to 1.5deg global warming.
9 May 17 - The World Bank says New Zealand should accept more migrants from the Pacific to pre-empt a flood of climate refugees.
13 Apr 17 - If conservation efforts pay off, whales could help Pacific islands to meet their emissions reductions targets.
1 Mar 17 - The Tongan government and the Asian Development Bank have launched the island group's first climate change trust fund.
14 Feb 17 - Scientists have discovered "extraordinary" levels of toxic pollution in the most remote and inaccessible place on the planet – the 10km deep Mariana trench in the Pacific.
10 Feb 17 - Global warming has already increased the risk of major disruptions to Pacific rainfall, according to new research by Australian scientists.
24 Jan 17 - Even supposing the world does make dramatic reductions in carbon dioxide emissions, the fate of the small island states remains uncertain.
21 Dec 16 - A New Zealand MP is challenging United States president-elect Donald Trump to come to the Pacific and see the impacts of climate change for himself.
19 Dec 16 - The Green Climate Fund board has approved eight funding proposals worth $US315 million ($NZ452m) at a meeting in Samoa.
13 Dec 16 - The board of the Green Climate Fund this week is meeting in the Samoan capital Apia. Here, the country's ambassador to the UN outlines his hopes.
7 Dec 16 - Miss Pacific Islands 2016, 23-year-old law graduate Anne Dunn, has been appointed Fiji's ambassador for climate change and the environment.
25 Nov 16 - American automaker and energy storage company Tesla Motors has powered the Pacific island Ta'u almost entirely from solar energy.
---