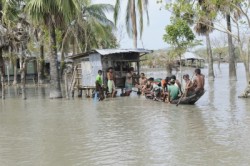 Friday - More than 170 religious leaders from all over the world have urged governments from the Commonwealth to "turn words into action" and stop dangerous climate change.
Friday - Shell CEO Ben van Beurden has the same message for activists and investors: Trust me.

Thursday - Daniel Webb accrued a mountain of plastic – all 4490 items of it – and made it into a mural, now on display in the UK.

Wednesday - Scientists have created - by accident - a mutant enzyme that breaks down plastic drinks bottles.

Wednesday - Commonwealth heads of state will begin meeting in London, amid concerns over the unequal effects of climate change and efforts to fight it.
Wednesday - More than 95 per cent of the world's population breathe unsafe air and the burden is falling hardest on the poorest communities,

Tuesday - Low-carbon technologies currently rely on a handful of key metals, some of which have been little-used to date.
---
Tuesday - An evolving climate means big changes for people who grow, catch and rear for a living, and everyone else who buys and eats what they produce.
16 Apr 18 - Rivers around the world are coursing with over-the-counter and prescription drugs waste dangerous the environment, researchers have found.
13 Apr 18 - Raise a hand if you've heard of the Gothenburg Protocol. No? Well, you're in good company.
13 Apr 18 - Nestlé has joined the growing number of multinational companies, which are recognising their role in reducing the amount of global plastic waste.
13 Apr 18 - Some children spend many hours of the day in childcare centres where artificial surfaces can become dangerously hot.
12 Apr 18 - Negotiations over a long-term climate strategy for the global shipping industry are growing fractious as countries battle over the level of ambition.
12 Apr 18 - As the world races towards a projected nine billion inhabitants, the failings of dominant food systems are impossible to deny.
11 Apr 18 - Greenhouse gas emissions from cement production must be reduced sharply if the world is to meet the climate change goals set out in the Paris agreement, a new report has suggested.
11 Apr 18 - Unilever is working on pioneering technology to convert hard-to-recycle plastic back into high-quality packaging.
10 Apr 18 - Formula E, the electric vehicle counterpart of Formula One and V8 Supercars, has come up an initiative that could change the way fans engage with their sports.
9 Apr 18 - Bank of England governor Mark Carney has warned of the "catastrophic impact" climate change could have for the financial system unless firms do more to disclose their vulnerabilities.
9 Apr 18 - The global shift from fossil fuels to renewables is being undermined by the very organisation that ought to be leading the charge, according to a scathing new critique of the International Energy...
---