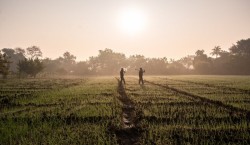 Tuesday - As the world warms, monsoon changes are set to cause havoc across a huge and densely populated swathe of the planet. The great South Asian summer monsoon will become both stronger and less reliable.
Monday - Government support and public money investment into coal is the only factor keeping India away from shrinking its coal capacity. The latest data shows that private sector has taken a step back and almost all coal-fired power plants which are under construction belong to the public sector.

Friday - Despite the economic challenges posed by Covid-19, the past year was marked by a growing number of pledges from Asian countries to reach carbon neutrality.

22 Mar 21 - Japan and China remain among the world's top coal industry lenders and underwriters, says a report, despite both countries declaring intent ions to go carbon-neutral as part of their commitments to climate target set out in the Paris Agreement.

9 Mar 21 - The United Nations has suspended climate projects that require working with Myanmar's military government following the February 1 coup and other international donors may follow suit.

3 Mar 21 - Asian governments and industries have increasingly been facing legal action for climate change-related harms over the past two years, a report by a United States-headquartered law firm has revealed.

9 Dec 20 - Japan's greenhouse gas emissions fell 2.7 per cent to a record low in the 2019 financial year that ended March 2020, government figures showed on Tuesday, thanks to growing use of renewable energy and lower energy consumption by manufacturers.
---
2 Nov 20 - Malaysian state-owned energy firm Petronas has declared that it will be carbon neutral by 2050
30 Oct 20 - The Philippines Government will no longer accept proposals to build new coal power plants, in a significant policy shift designed to boost the deployment of renewable energy.
29 Oct 20 - South Korea is the latest country to pledge to be carbon-neutral by 2050.
28 Oct 20 - India's southern city of Hyderabad is known as a high-tech hub - but its infrastructure is looking increasingly dated in an era of strengthening climate change impacts.
27 Oct 20 - Japan's prime minister, Yoshihide Suga, has said the country will become carbon neutral by 2050, heralding a bolder approach to tackling the climate emergency by the world's third-biggest economy.
1 Oct 20 - South Korea has declared a climate crisis, and established a non-binding goal of reaching net-zero emissions by 2050, making it the second East Asian nation this week to set a tougher climate target.
7 Sep 20 - Six young Portuguese activists are taking a European human rights case against 33 countries in the latest legal effort to force governments to step up their fight against climate change.
28 Aug 20 - A new study has uncovered scant disclosure by green bond issuers of their environmental impact, and a lack of social safeguards to protect communities from unintended consequences of financed...
24 Aug 20 - With the outlook for urban tourism deeply uncertain, Thai authorities have a chance to adopt a more sustainable model.
18 Aug 20 - Fossil-fuel producers and high greenhouse-gas emitters in Japan are fiercely lobbying against more ambitious emissions and energy policy that would imperil their carbon-heavy, energy-intensive...
23 Jul 20 - As other countries pull out of Vietnam's coal sector, Chinese banks have become the lender of last resort for struggling projects.
20 Jul 20 - For South Korea it seems, climate care is a case of going green at home – and doing the opposite overseas.
---