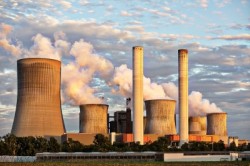 Wednesday - A former coal plant in the north of England will become the test site for a new way to remove carbon dioxide from electricity generation.

22 May 18 - The United Nations has warned the UK government that the country's reputation is at risk over plans that would significantly weaken protections for the environment after Brexit.

18 May 18 - London is considering introducing car-free days in an attempt to tackle the city's air pollution crisis that experts say is responsible for thousands of early deaths each year.

17 May 18 - The UK has been told there's no need to build large gas-fired power stations to replace the coal plants that the government has pledged to switch off by 2025.

16 May 18 - The UK Government is seeking to reassure the public that environmental laws will not be watered down after the country's planned departure from the European Union.

16 May 18 - Lloyds Bank is making an extra £2 billion available to help UK businesses implement sustainability initiatives.

15 May 18 - Borrowers in the UK will be able to take out a bigger mortgage when buying greener properties for the first time, under a pioneering scheme to encourage energy efficiency.
---
8 May 18 - The UK's North Sea clean-up costs – the price to be paid for decommissioning its oil and gas industry – will probably more than double, a British group says.
30 Apr 18 - A survey in UK Starbucks stores shows that reusable cup usage has surged by 156 per cent since the intoduction of a 5p charge.
26 Apr 18 - BP chief executive Bob Dudley has come under fire from campaigners after he urged Cambridge University not to drop its fossil fuel investments.
19 Apr 18 - The potential for the tides to generate clean, reliable electricity has taken a significant step with the completion of a flagship project in Scottish waters.
19 Apr 18 - The UK government has announced that it wants official advice on the "implications" of aligning its climate goals with the Paris Agreement.
10 Apr 18 - Scientists are finalising plans to exploit the vast reservoir of warm water that fills a labyrinth of disused mines and porous rock layers underneath Glasgow.
10 Apr 18 - The world-renowned department store Selfridges is to ditch single-use plastic carbonated drinks.
6 Apr 18 - The UK Climate Change Act is a pioneering and far-sighted piece of legislation, but it is time to ask whether the central ambition of reducing carbon emissions by at least 80 per cent from 1990...
27 Mar 18 - The UK has decided to stop plans for a new opencast coal mine because it would "adversely impact upon measures to limit climate change".
22 Mar 18 - More than 71,000 hectares of protected countryside, including national park land, in the south-east of England are at risk from a new wave of oil drilling.
20 Mar 18 - A bill will be brought before the UK parliament this year mandating, for the first time, measures and targets to preserve and improve the health of the nation's soils.
16 Mar 18 - Single-useplastic items such as disposable coffee cups, takeaway boxes and polystyrene packaging could be hit with charges in the UK akin to the 5p levy on plastic bags.
---