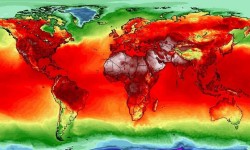 2 Aug 18 - By PHIL McDUFF | The damage caused by our addiction to burning fossil fuels will be so widespread that nobody stands to gain.

27 Jun 18 - By Toyota NZ chief executive ALASTAIR DAVIS | The Productivity Commission's draft on the move to a low-carbon emission economy through a Zero Carbon Act is a sound report on what lies ahead.

20 Jun 18 - By JONATHAN McKEOWN | It is always refreshing when structures and processes work as they were designed to. It's an absolute triumph when it involves the public sector, an industry body and business.

8 Jun 18 - The Australian Senate's declaration last month that climate change is a "current and existential national security risk" was clearly intended to inject much-needed urgency into the country's climate policy stalemate.
7 Jun 18 - Climate minister James Shaw says we're in the midst of a new Industrial Revolution – and that's why he's asking for input on the Zero Carbon Bill before it's drafted.

1 Jun 18 - By BILL McKIBBEN | In case anyone wondered, this is how the world ends: with the cutest, progressivest, boybandiest leader in the world going fully in the tank for the oil industry.

31 May 18 - By NEIL WALKER | In Gilbert and Sullivan's opera The Gondoliers, we hear about a king "in wonder working days of old whose heart was twice as good as gold", but who, in the end, "although no one denies his heart was of enormous size he would have acted otherwise if he had been acuter".
---
30 Apr 18 - The Productivity Commission might be talking about big things from the energy sector, but the Government doesn't seem to want to know, says Bioenergy Association chief executive BRIAN COX.
20 Apr 18 - Real hard work is about to begin after last week's deal at the IMO, writes BILL HEMMINGS, shipping director at Transport & Environment, a sustainability NGO.
26 Mar 18 - Language bends and buckles under pressure of climate change, says Princeton University academic ROB NIXON. Take the adjective 'glacial'.
22 Mar 18 - People tend to like cities, and have been congregating in them ever since the invention of agriculture, 10,000 or so years ago. That's why we call it civilisation, explains science fiction writer KIM...
19 Mar 18 - Climate and energy expert Professor RALPH SIMS explains why natural gas is not a "bridging" fuel between dirtier fossil fuels and low-carbon energy. Searching for it and using it, he says, will delay...
22 Feb 18 - Government officials appear to be putting more effort into working out how to purchase international carbon credits than into reducing the country's greenhouse gas emissions, says Bioenergy...
2 Feb 18 - New Zealand businesses that plan to wait for regulation before taking sustainability seriously are in for a rude awakening.
20 Jun 17 - Adaptation is about survival. Mitigation is about finding and implementing solutions to prevent the need to go into survival mode, says DR ANN SMITH chief executive of Enviro-Mark Solutions
13 Feb 17 - Senior climate scientist PROFESSOR JAMES RENWICK goes looking for the facts in the latest so-called scandal about climate change.
7 Feb 17 - OPINION | Tourism can be a force for good – depending how you do it, say World Tourism Organisation director-general TALEB RIFAI, United Nations Environment executive-director ERIK SOLHEIM and UNFCCC...
3 Feb 17 - OPINION | Aurecon's manufacturing market director Tim Plenderleith takes a glimpse at the future of manufacturing in a resource-constrained world.
2 Nov 16 - INTELLIGENCE for the carbon market, eh? - as you claim in today's (Carbon News Oct 31) bit headed "Stern Words".
---